You can listen to this message on the Podcast!
To get to this episode on the podcast, just click on one of the following sites:
How to Find Peace in the Storm
I'm not sure that there has ever been a time when the world has felt crazier or more challenging than it does today.
It is stormy out there – lately!
And everyone is looking for peace, rest, hope, and a place to anchor their hearts and minds.
With this in mind, I wanted to invite one of my sweet ministry friends to join me today to encourage you and your families.
As we face all that is happening and all that lies ahead, we need hope.
Today, I've asked Donna Bucher to join me to discuss how to find peace in the storms of life

.
Donna is the Founder of Serenity in Suffering; a community helping others find Peace, Purpose & Personal growth in the Storms of life.
She's a blogger, a speaker, and a woman who loves to minister to other women.
She's also a great encourager and a woman of incredible faith.
We are blessed to have her with us at Women Living Courageously.
Welcome, Donna!
Donna – Thank you, Melanie.
I'm so honored to be with you to share some incredible ways that we can find peace.
Truly, to find peace in the middle of our storms and hang on to hope in those storms of life that we encounter is what we desire.
Let's talk about how to find peace in the storm

.
Melanie – So, let's dive right in.
Let's talk first about honestly looking at our lives.
You recently shared with me some things we need to understand about pain and about its intensity.
Would you share some of these thoughts with us??
The Intensity of Storms
Donna – I got to thinking about storms.
Just like the storms we encounter in nature vary in size and intensity and duration, painful circumstances in life or the storms of life come in various sizes, intensities, and duration.
Storms can be everything from a quick downpour to hurricane-force winds.
Indeed, storms can greet us in the form of broken appliances or in an unexpected change of plans.
More intense storms can be things like job loss, divorce, dealing with prodigal children, injury, illness, and death.
Sometimes we counter one storm at a time, or sometimes it feels like a whole system of storms blowing through our lives.
We no sooner get through one than another one comes.
And then at the same time, intensity and duration can change.
And some storms last a day, an hour, a week, sometimes even a lifetime.
The longer the storms are, our focus starts to shift to more on the devastation the storms are causing.
It increases our pain, it causes us to lose our peace, and it drives us to pray for the storm to pass as quickly as possible.
But today, I wonder if instead of praying for the storm to pass or for God to remove those difficult circumstances, what if we started praying for a way that we could grow through that storm?
What if we focused on who we could become in the rain?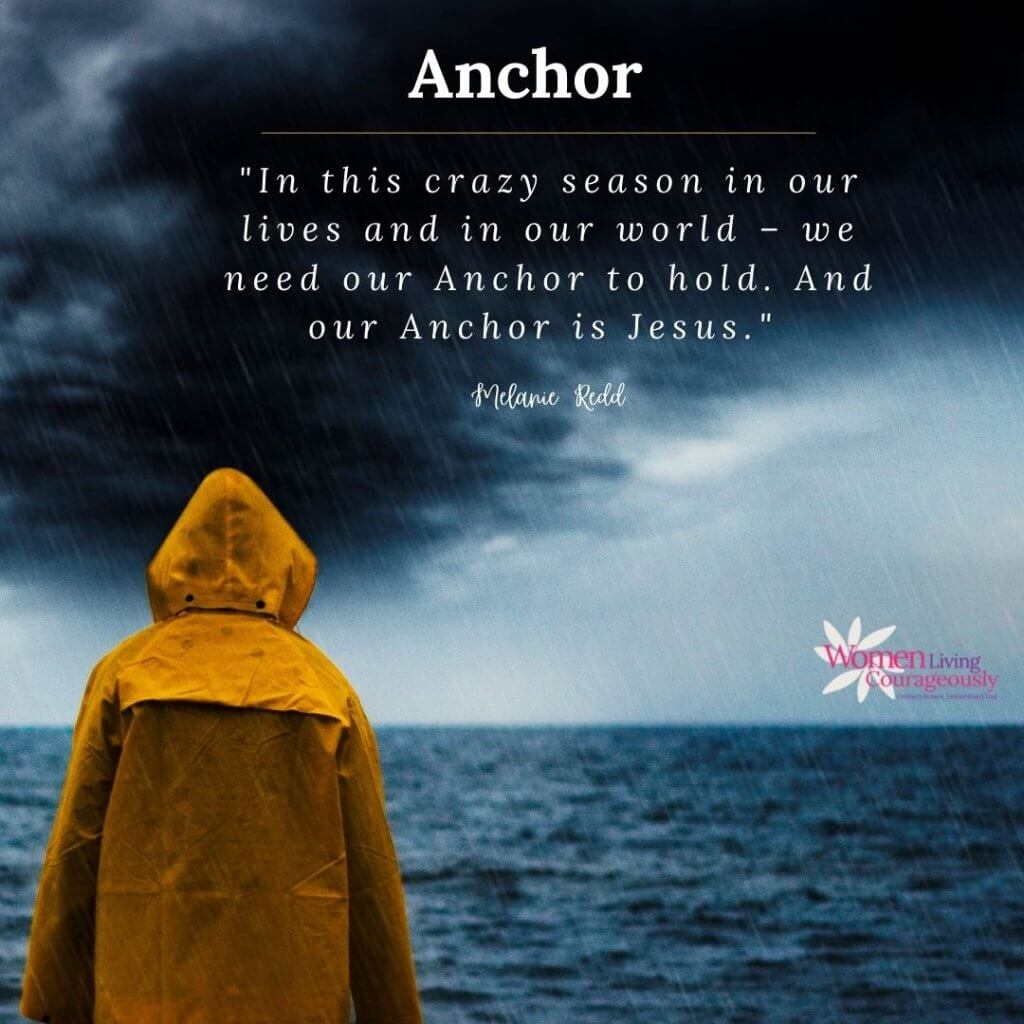 Words from the Bible about How to Find Peace in the Storm
Melanie – Wonderful thoughts on this topic. Thank you for sharing that!
Hebrews 6:18-20 tells us,
"Therefore, we who have fled to him for refuge can have great confidence as we hold to the hope that lies before us. This hope is a strong and trustworthy anchor for our souls. It leads us through the curtain into God's inner sanctuary. Jesus has already gone in there for us. He has become our eternal High Priest in the order of Melchizedek."
Pastor Adrian Rogers used to love to hear the song, The Anchor Holds.
A few of the lyrics include:
"The anchor holds
Though the ship is battered
The anchor holds
Though the sails are torn."
Our Anchor Does Hold

!
In this crazy season in our lives and in our world – we need our Anchor to hold. And our Anchor is Jesus.
Let's talk about this… some practical ways we can find peace as we lean on the Anchor of our souls – Jesus.
What does this really look like?
Donna, share with us one way that you practically lean into Jesus – to give you strength in the storms.
First, to Find Peace in the Storm, Open the Bible and Read
Donna – I have one thing to share, and it's probably my favorite thing.
I've learned over the years and that is, to lean into Bible reading.
Just to read the word of God.
Colossians 2:6-7 tells us,
"So then just as you received Christ Jesus as Lord, continue to live your lives in him, rooted and built up in him, strengthened in the faith as you were taught and overflowing with thankfulness."
God's word gives us those strong roots, which ground us and hold us firm in the storms of life and just…
Jeremiah 17: 7-8 further illustrates that by saying,
"But blessed is the one who trusts in the Lord whose confidence is in him. They will be like a tree planted by the water that sends out its roots by the stream. It does not fear when the heat comes, its leaves are always green. It has no worries in a year of drought and never fails to bear fruit."
Get Some Roots
Donna – Spending time in God's word gives us these strong roots and the confidence to stand firm when the storms of life come.
Because in God's word, we learn who God is.
We learn who God is that we are trusting.
We know him better.
Also, we learn to listen to and for his voice.
We see his faithfulness throughout the history of the Bible.
In addition, we learn the promises that He has specifically for us, especially, in difficult times.
And we always find hope and peace in His words.
Jesus Christ is the anchor of our soul, but God's word tethers us to that anchor, it can complete the whole picture.
And I know, maybe for some of our readers, Bible reading seems intimidating.
Maybe they're new to the faith and they haven't really figured out how to do that very well. It seems strange to them.
Perhaps, they've been around a while, but it's been a long time since they've read God's word.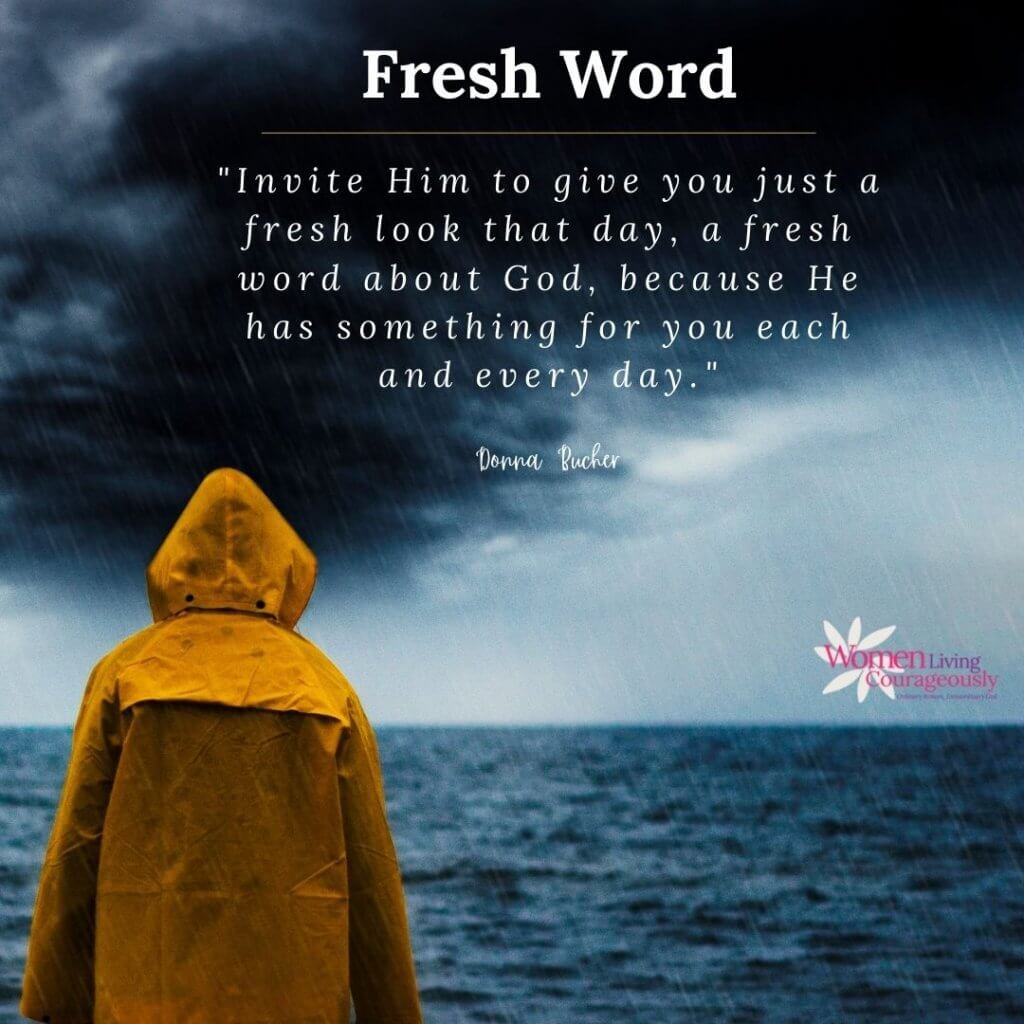 To Find Peace in the Storm, Get Acquainted with the Bible
Donna – It doesn't matter if you are just starting to get back into God's word.
It's just his story.
It doesn't have to feel intimidating because it's God's story.
From creation to Revelation, it's His story about His steadfast unfailing love for His people
We read of how He came to redeem us so that we can be with Him forever.
But sometimes we don't know where to begin.
I always tell people whether they're new to the faith or whether they've just put Bible reading aside for a while, to start in the gospels.
Get reacquainted with Jesus, or get acquainted with Him to start with.
I love the gospel of John.
And I always recommend people start in the gospel of John.
Doesn't matter how many chapters or verses you read, just open the Bible, read what you can, and at the time, linger there with the words of God.
Try the READ Method of Bible Reading
Donna – And when you're reading the gospels, imagine yourself in that time.
Put yourself in the situation and just be thinking about what God might have for you in that.
And I have a real easy method I always recommend to people for reading the Bible.
It's an acronym with the word READ, R-E-A-D.
So obviously "R" is READ. It seems simple, but just the fact of reading even a few verses a day, just determine you're going to open the Bible and just read what you can.
So starting with a few verses, a chapter, or whatever feels good for you, just read that's the important part.
The "E" is EXAMINE.
So after you've read, it's just looking back over what you've read.
Was there a word that stood out to you?
Maybe an attribute of God, maybe a scenario, maybe what happened, you want to think about a little more?
Something God might be speaking to you about?
More of the READ Method
Donna – Sometimes I jot those down, even on a little sticky note or scrap paper.
I just keep it with me throughout the day and just think about it.
It's not about going over and over the verses, but just that one thing that maybe stood out to me in my reading.
And then "A" is for ASK.
Ask the Holy Spirit to give you an understanding of the word and to point something out for you.
Invite Him to give you just a fresh look that day, a fresh word about God, because He has something for you each and every day.
And He may have something for you to do, He may not.
It may just be something that He wants you to know about Him that day, so ask.
Finally, the "D" is for DO.
If there's something there that you feel like the Lord has impressed you wish to do it, to just follow through.
Whatever that is, to live a life that's pleasing to God.
The point is to read God's word, however, little or however much you feel comfortable with.
Great Suggestions
Melanie – That is awesome!
And that's such a great suggestion. If you need a place to start, that is such a wonderful suggestion.
So thank you. When we need an anchor for our souls, we open the Bible.
I mean, it seems logical, but sometimes we forget to do it. And so that's a wonderful place to start.
Well, I've got another one to share with you.
I'll tell you something I've been doing.
And I know for me, sometimes I wake up in the night.
I don't know if anybody else has that problem, but sometimes I wake up and I'm wide awake in the middle of the night. And especially in the last couple of years, it's been rather crazy.
Second, to Find Peace in the Storm, Try Listening to Hymns or Instrumental Music
Melanie – And so what I'll do is I'll grab my phone and my headphones and I'll turn them on.
I'll go to a music site like Spotify; they have free versions that you can get.
I'll type in, "instrumental hymns."
And then I'll find some great options.
Honestly, it's quiet. It doesn't make me wake up too much, but I'm there with my headphones on and I listen.
And I want to tell you, I've been so comforted.
I've done this many nights when I didn't want to wake my husband up.
And as for those notes, usually, it's piano music that rolls through my mind as I remember the words.
It was just the tunes playing, but these truth-filled words came back to me.
An Interesting Story
Melanie – And it's kind of funny, I've been doing this for several months.
Recently, my daughter and I went to get our nails done. As we were sitting in this nail salon, there was soft music playing.
As I was listening, I very clearly heard these words:
"When peace like a river attendeth my way,
When sorrows like sea billows roll,
Whatever my lot,
Thou hast taught me to say,
It is well. It is well with my soul."
The entire time that we were there (it was about two hours) I listened to and found great peace listening to hymns.
Truly, they were the words that I had memorized years before that were coming back to me over the speakers in the nail salon. Kind of cool!
And Moving On
Melanie – So I suggest if you can't sleep or you're especially stressed out, get you some music that will point your heart back to heaven.
Next, let's talk about something else because you had mentioned helping find peace in the storm.
So share another idea with us.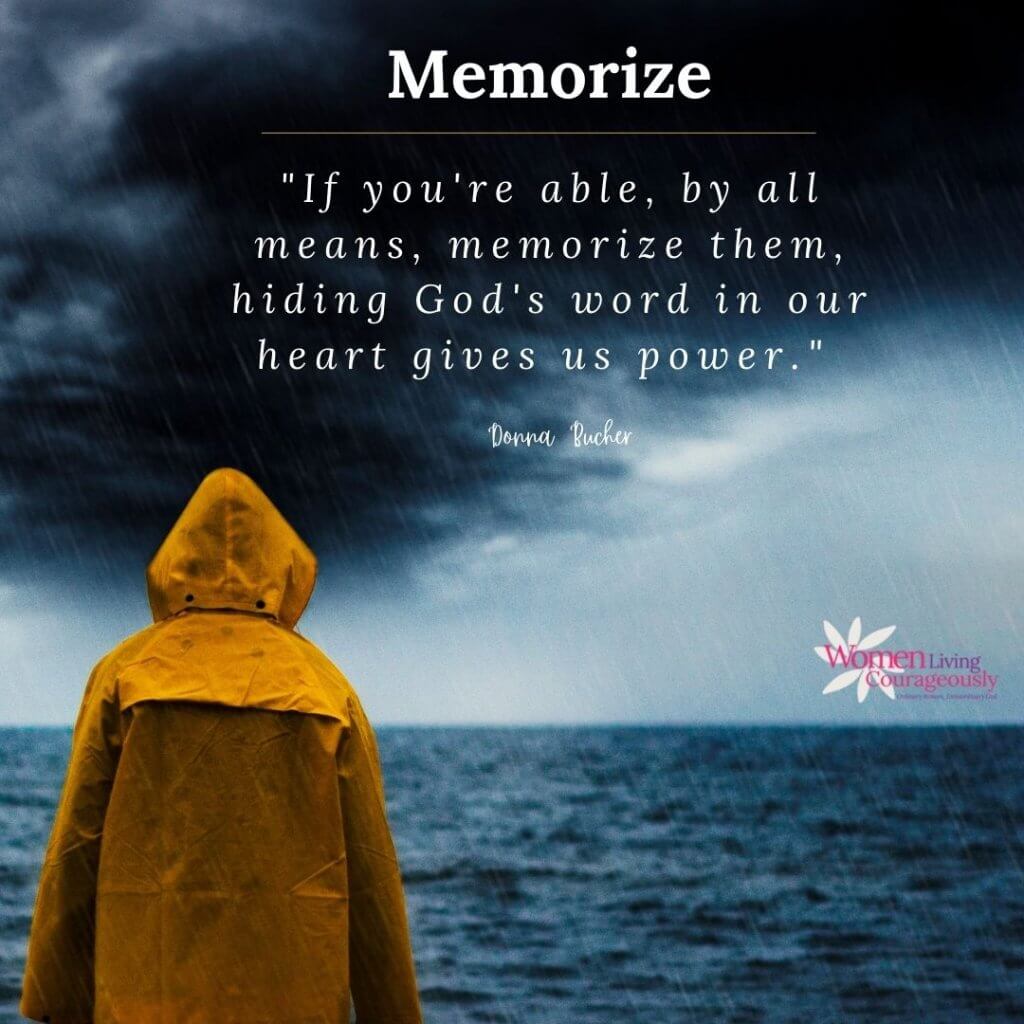 Third, to Find Peace in the Storm, Try Bible Memory

.
Donna – I love Bible memory.
And again, sometimes that scares people away.
But, you don't have to memorize huge passages.
I do memorize passages of scripture, but I'm talking about a few verses and they don't even really have to be memorized.
When storms come, we all have a default response mode, so to speak.
Truly, we all react in a certain way.
Not all the same.
For instance, sometimes it's fear and anxiety. As soon as something difficult starts to approach my life or comes upon me, maybe I'm fearful and I have a lot of anxiety.
Some people get angry, very angry that this is happening.
Some people become discouraged right away or they lean towards a depressed type. They withdraw.
Other people start to doubt. They start to set can guess everything.
So what I like to do is to memorize verses.
Also, I work with people to simply find a verse in the Bible that speaks to them and brings them comfort.
What to Do With the Verses
Donna – Then, if you're able, by all means, memorize them, hiding God's word in our heart gives us power.
And it's like those hymns, the Holy Spirit is going to bring that back to your mind when you least expect it.
And He's going to remind you of those promises of God.
But also, not only do I memorize them, but I write them down. You can write them on index cards.
I have a friend who writes these verses on sticky notes and then she puts them in a scrapbook. She just places them in there and she can just open that any time.
You can have a little emergency notebook that you keep in your purse or backpack. You will be able to take it out and just go over those verses.
That's what my daughter does, she pulls out that little notebook and reads back through those verses to remind herself of the truth.
Sometimes the Storms Are Paralyzing
Donna – And I like to do that too because even though I have a great memory and I do memorize verses, sometimes the storm I'm facing is so paralyzing.
I can't remember the verses.
And so then that helps me.
I pull out that hard copy, whatever that looks like, and I just start reading through it and my heart is soothed.
Part of weathering the storms is preparing for the storms, and Bible memory and Bible reading are your preparation.
You know the storms are going to come, and the way that we prepare for them is to get into the word of God.
We have that little emergency backpack set, ready to go.
Wonderful Suggestion

!

Melanie – Such a wonderful suggestion! Yes!

And I have to tell you, it's can be fun!

I did Bible drills as a child, and I learned the verses in King James and they still come back to my memory.

And so there is something about Bible memory or putting them on cards, like you said, or putting them in your phone that helps us!

The word of God is powerful!
Fourth, to Find Peace in the Storm, Try Prayer

.
Melanie – I have another suggestion along that same lines.
I've started praying using index cards, and it's especially been just in the last year.
What I'll do is to write a person's name down or it's a specific request, just in real short form.
Sometimes, I have taken them and literally lifted them in the air to God, especially certain names. I've lifted those things up to heaven.
And at that moment, I just imagine that I'm lifting that person up.
I will tell you, there is something about adding prayer, especially when you're in a dark valley, that makes such a difference.
Melanie – Back to you, Donna, would you share one last way you have discovered that offers such support in the storms?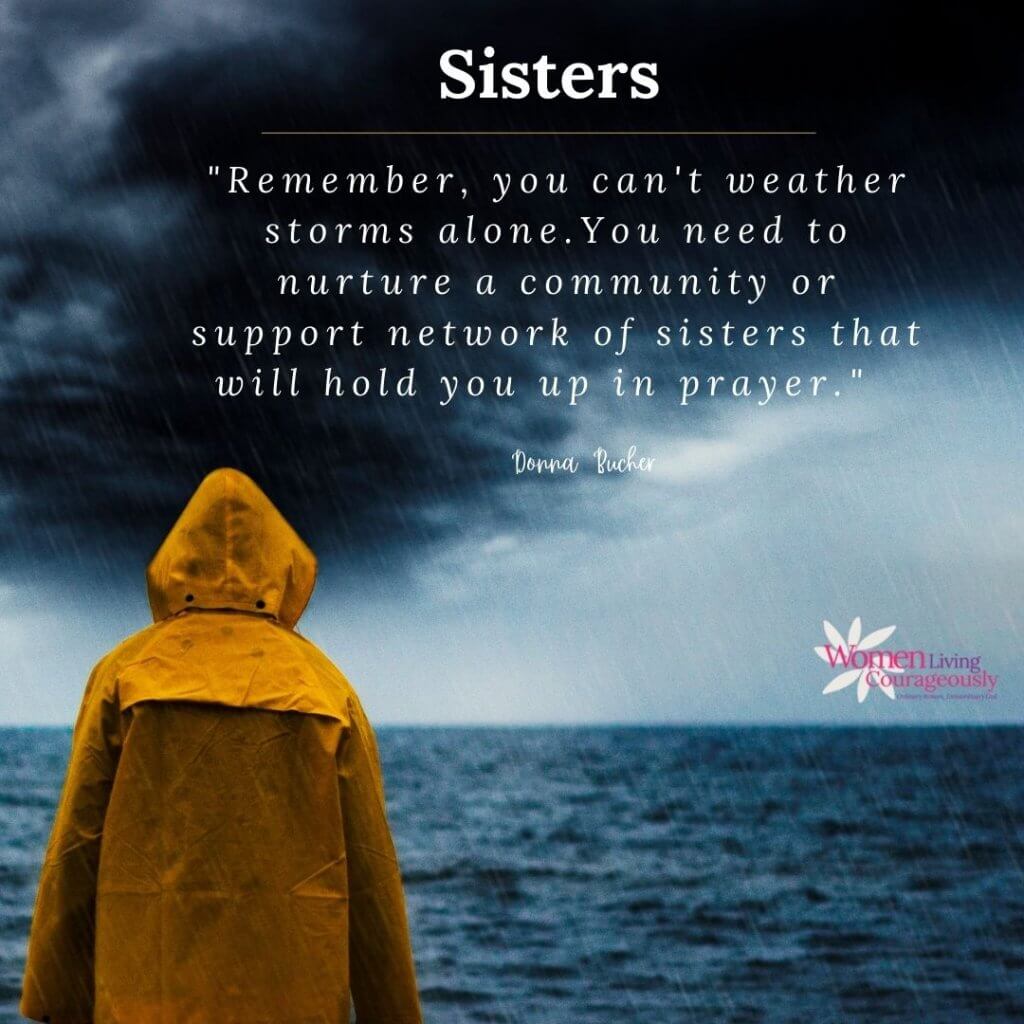 Finally, to Find Peace in the Storm, Try Community.
Donna – Another way is also that of community.
If you think of a shipwreck, you have a storm at sea and the ship is going to go down. We reach a point where we need to abandon ship.
They have you put on a life vest and they always instruct you, when you get in the water, link up with somebody near you. Link up with the boats.
Whatever you can do, even if you're in the boat, link the boats together.
They always teach you that. Why?
Because you survive in a community.
If you are alone, you're going to get washed away.
If you're together like that, you're all together, everyone knows where to find you and you are safe.
You're just safer that way.
Remember, you can't weather storms alone.
A Network of Sisters
Donna – You need to nurture a community or support network of sisters that will hold you up in prayer.
Like Melanie was just mentioning, people who will pray for you, keeping you near with needs.
Whatever might come up with that storm when you're overwhelmed, even helping with everyday tasks sometimes, can be encouraging.
When really tough storms come through, I just feel almost paralyzed.
It's like I don't even know what to do next.
Having community in place is essential for me.
So if you find yourself in a storm right now, and you're feeling isolated, reach out, even if it's only to one person.
Let them know what you need right now. Be honest.
And if you know someone who is going through a storm right now, reach out to them and pray for them.
Other Ways to Share Community
Donna – But more than that, maybe drop off a meal or even send a text.
Often, I have gotten texts with just a verse, a part of a verse, a verse reference, or anything like that. And it has just breathed life into me at that moment.
So something, even as simple as that, a text, or a phone call.
Even an email can be helpful.
Reach out with meaningful words of encouragement to let them know you're there.
You weather the storm better in the community.
When you're weak, your sisters help hold you up and get you focused back on God and breathe that peace and life back into you.
Solid Truth
Melanie – Yes. This is such solid truth.
And I agree, that we need each other, and we don't need to go through this alone.
So if you're in a storm right now, that's such a good word, reach out to someone.
Let at least one person know you're struggling.
Donna, you also mentioned to me that you have one more thing you have discovered about storms.
As we finish up our discussion, would you share that with us?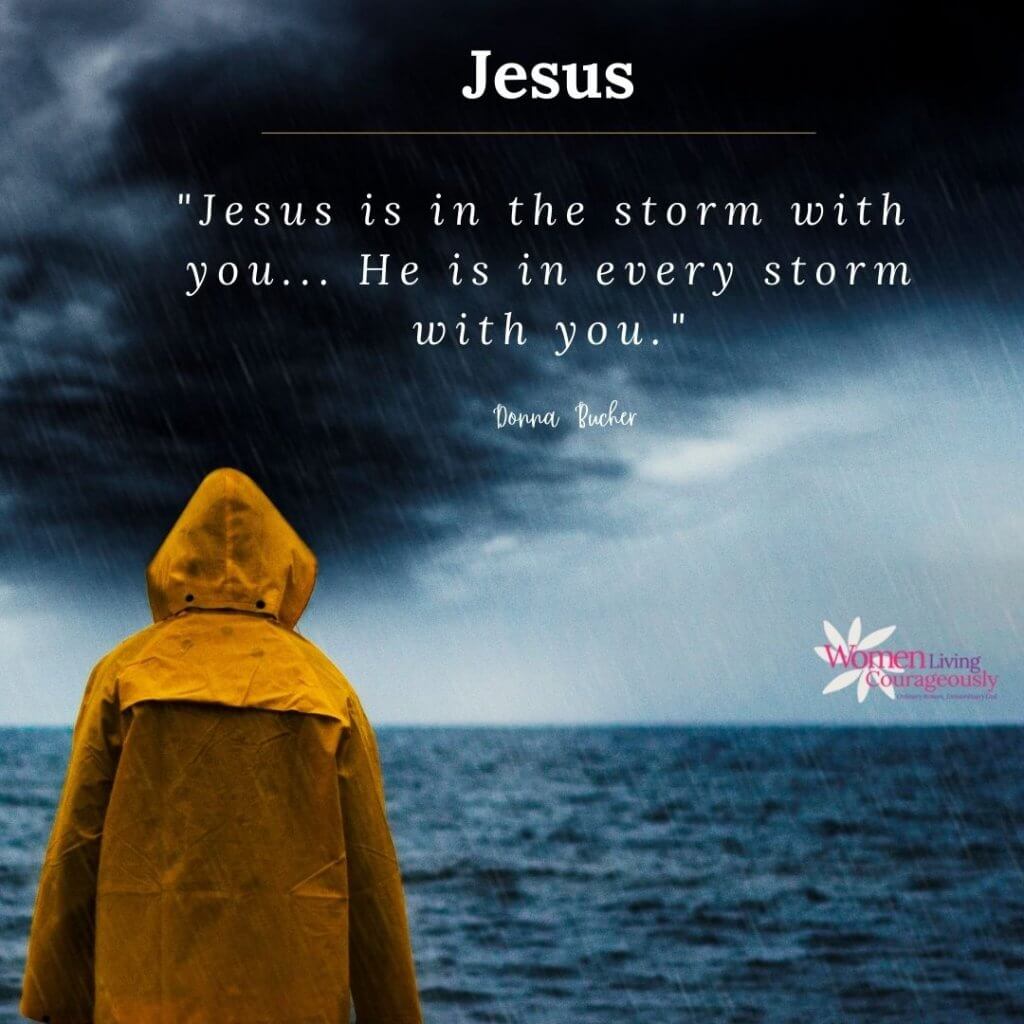 One More Truth about How to Find Peace in the Storm
Donna – One thing that I used to think when I got into a storm was, "What did I do wrong?"
I must have done something wrong. Why am I in the storm? The storms are punishment.
But storms are not punishment, storms are part of life.
Storms will come.
If you're thinking that there's a way to avoid storms, that's not true, stop it.
Storms are going to come.
And what really brought that home for me was in Mark 4.
It's the story of when the disciples are with Jesus in the boat.
He said, "Let's get in the boat and cross the Sea of Galilee to the other side."
Meanwhile, Jesus falls asleep and this huge storm comes along and they are thrashing about, they're scared to death.
They think they're going to perish.
Asleep on the Boat
Donna – Jesus is asleep in the back of the boat and they go wake Him up.
They say, "Don't you care? We're dying here."
And He says, "Why are you so afraid?"
And I just stopped to think, look, they were in the middle of the storm and they were with Jesus.
Let's just say they were right in the center of His will because Jesus invited them to get into the boat.
They weren't doing anything wrong,
In fact, they were doing exactly what He told them to do and yet a storm came.
So storms are going to come, but remember, the will and the waves obey His voice. They have to do what He says.
Jesus is in the storm with you.
That was the other thing from the story–He is in every storm with you.
Jesus Speaks Peace
Donna – Even when the storms are due to something we've brought upon ourselves, a bad decision, something we've done… Jesus is still in the storm with you because He promised He will never leave you nor forsake you.
His voice, even though it may not calm the wind and waves as it did in that story, the same voice will calm you.
He will speak peace and life into the storm for you and be with you.
So it has to do with leaning into Jesus, and remembering who He is.
The Point about Waves
Donna – I thought about how the waves and how rough storms can feel. You feel like you're just being battered about.
One time I was at the shore and it was really rough, and I hardly went out far at all.
And those waves battered and beat me.
But when I leaned into the waves, instead of just standing there rigid, it was calm, and it went over me.
Leaning into Jesus in the middle of the storm is like that. It's finding that calm place.
You're still in the storm, but He is with you.
And if you trust God in the storm, you lean in knowing, He is going to make a way through.
He's going to make a way through.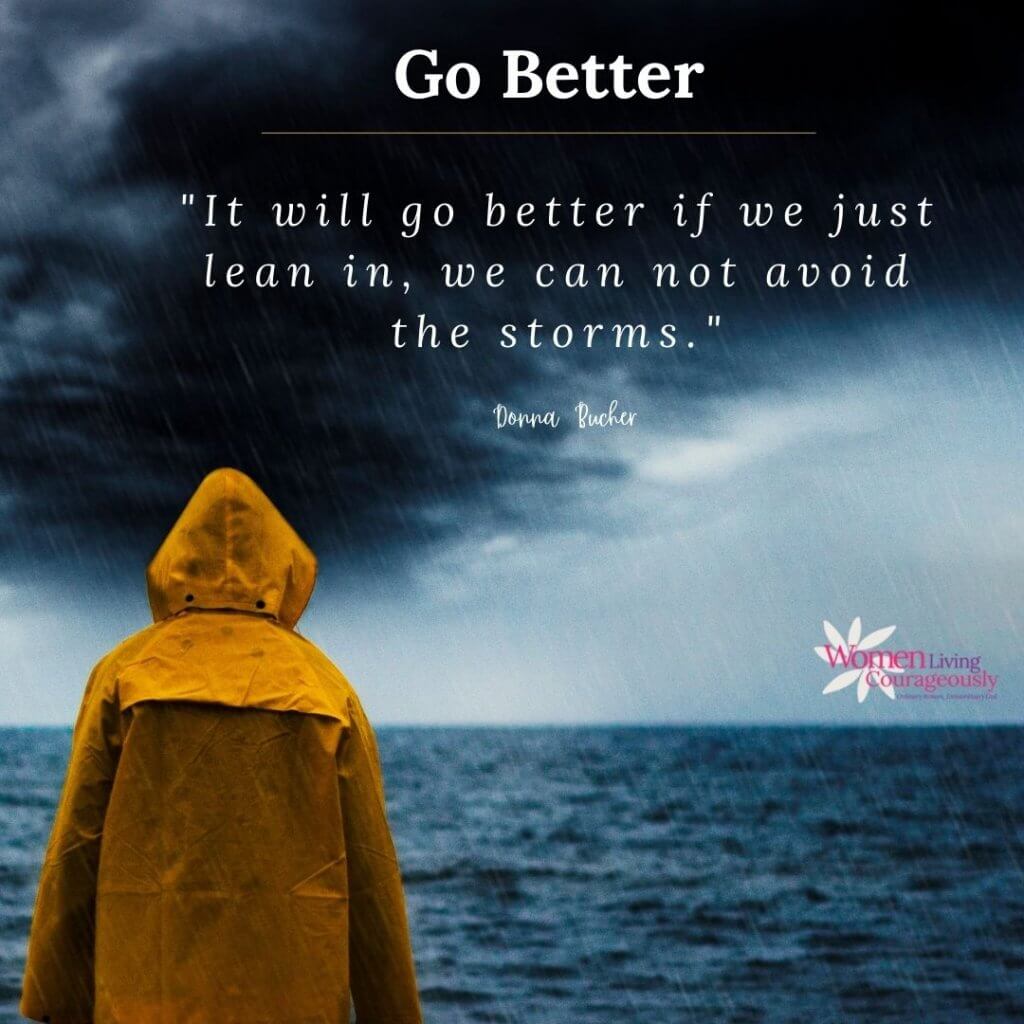 Where to Connect with Donna
Melanie – This has been so good. And thank you for so much wonderful encouragement.
Would you tell our listeners, because they're going to want to know a little bit more about you and how to get in touch with you?
Where would you like to connect with them?
Donna – They can come to my blog. They can come to serenityinsuffering.com.
I'm also on Instagram @serenityinsuffering.
Twitter @serenityinsuffering.
Facebook at Serenity in Suffering.
You can find me in all those places.
I'm there regularly. I love to hear from readers and listeners.
And right now I have a promotion going.
If you sign up for the newsletter, you get my free attitude of rest guide, and it's full of ways for finding peace.
Sign up at the bottom of my Welcome Page – Serenity in Suffering.
Ordinary Women
Melanie – As we close out, here at Women Living Courageously, our motto is this, we are ordinary women, but we serve an extraordinary God.
So I always like to ask these two questions.
First, and I'll share one of mine, what makes you an ordinary woman?
And one of the ones I like to share is that I would rather eat out than cook.
I don't know if any other women are like that, but I love to eat out.
So what about you? What makes you an ordinary girl?
What Makes You Ordinary

?
Donna – I'd rather cook than eat out.
What makes me ordinary is that I am a hopeless introvert.
I would rather do nothing than curl up with a book and a cup of hot tea on my sofa and be by myself.
God keeps pulling me out of that place.
What Makes God Extraordinary to You

?
Melanie – And I think a lot of women can relate.
There are a lot of women that would rather just be home with their book and their cup of tea or coffee. So yes, you're ordinary like the rest of us.
Let me ask you this, how has God been extraordinary to you?
If you could name one way that you've seen him be extraordinary in your life, what would it be?
God is Extraordinary in the Storms of Life
Donna – In keeping with the theme for today, with the storms, He's extraordinary in the storms.
Because the wind and the waves obey His voice, which means every storm that has come into my life and that will come into my life, He redeems.
And it's used for His purposes and for His purposes only.
No matter what it looks like, no matter who meant it for evil, He uses it for my good in conforming me to the image of Christ and for His glory.
That's how He's been extraordinary.
You've Been a Blessing

!
Melanie – That's a good word. Yes.
Well, thank you so much for being with us today.
It's been a joy and a blessing to get to know you as a personal friend and an Instagram friend.
And I'm so excited that our listeners here on Women Living Courageously can get to know you too.
A Few Takeaways on How to Find Peace in the Storm
Melanie – I was thinking about a few takeaways just that I'll share as we closeout.
First, we will all go through seasons when we need an anchor. Storms will come, there's no way to avoid them.
Second, we can turn to God's word and commit it to memory to help us.
Third, we can turn up to hymns and the good music and we can also pray like we never had before.
Fourth, we need each other, so we don't have to walk alone.
Finally, it will go better if we just lean in, we can not avoid the storms.
A Free Gift for You

!
We have a free resource for you today from Love Worth Finding, it's called, "Finding God's Peace."
You can sign up below and get your free copy!
Until next time, let's remember, that we are just ordinary women, but we serve an extraordinary God, and he is able to anchor your soul today and give you peace.
This blog occasionally uses affiliate links and may contain affiliate links.
© Women Living Courageously, 2022. Unauthorized use and/or duplication of this material without express and written permission from this blog's author and/or owner is strictly prohibited.
Further, excerpts and links may be used, provided that full and clear credit is given to Melanie Redd and Women Living Courageously with appropriate and specific direction to the original content.