You can listen to this message on the Podcast!
To get over there, just click on one of the following sites:
At evangelist Billy Graham's funeral., his children all took the chance to talk about their father.
One of his daughters, Ruth, the self-proclaimed black sheep, shared a story that really stuck with me.
Billy Graham's daughter, Ruth, shared a particular time when she really appreciated her daddy.
Then, she explained that she had made some choices that were less than perfect. 
In fact, after her first marriage ended, her family discouraged her from getting involved with another man so she began to date him.
But she was in love with this new man and proceeded to marry him without her parent's or her family's blessings. 
Sadly, the marriage did not survive.
And when the divorce went through, Ruth decided to go home and see her family.
As she drove up the long, winding driveway of her parents' North Carolina home, she was rehearsing what she would say when she got there.
Much like the prodigal son in the Bible, as he made his way back home; Ruth was readying herself for what she would say to her parents.
She would tell them how sorry she was and how wrong she had been.
But she never got the chance.
As she drove up close to the house, she saw her father sitting on the front porch.
Billy Graham got off the porch and headed toward her car when he saw her pull up in the driveway. 
It was almost as if he had been waiting on her.
As she exited her car and went to speak to him, he just opened his arms wide, threw them around her, and said,
"Welcome home, Sweetheart."
Truly, I love this picture of Billy Graham and the grace that he showed to his daughter. 
Quite honestly… Sometimes I think we need to have more of a picture of a God who is like Billy Graham than the picture that some of us have in our hearts and minds.
It's so easy to picture God as a cruel, harsh, and aloof judge.
Yes. He is just and he is God almighty, but He is also love and grace and forgiveness and compassion.
Pastor Adrian Rogers was famous for regularly giving an invitation at the end of a service and saying the words, "Come to Jesus."
Over and over. He would say, "Come to Jesus. Come to Jesus."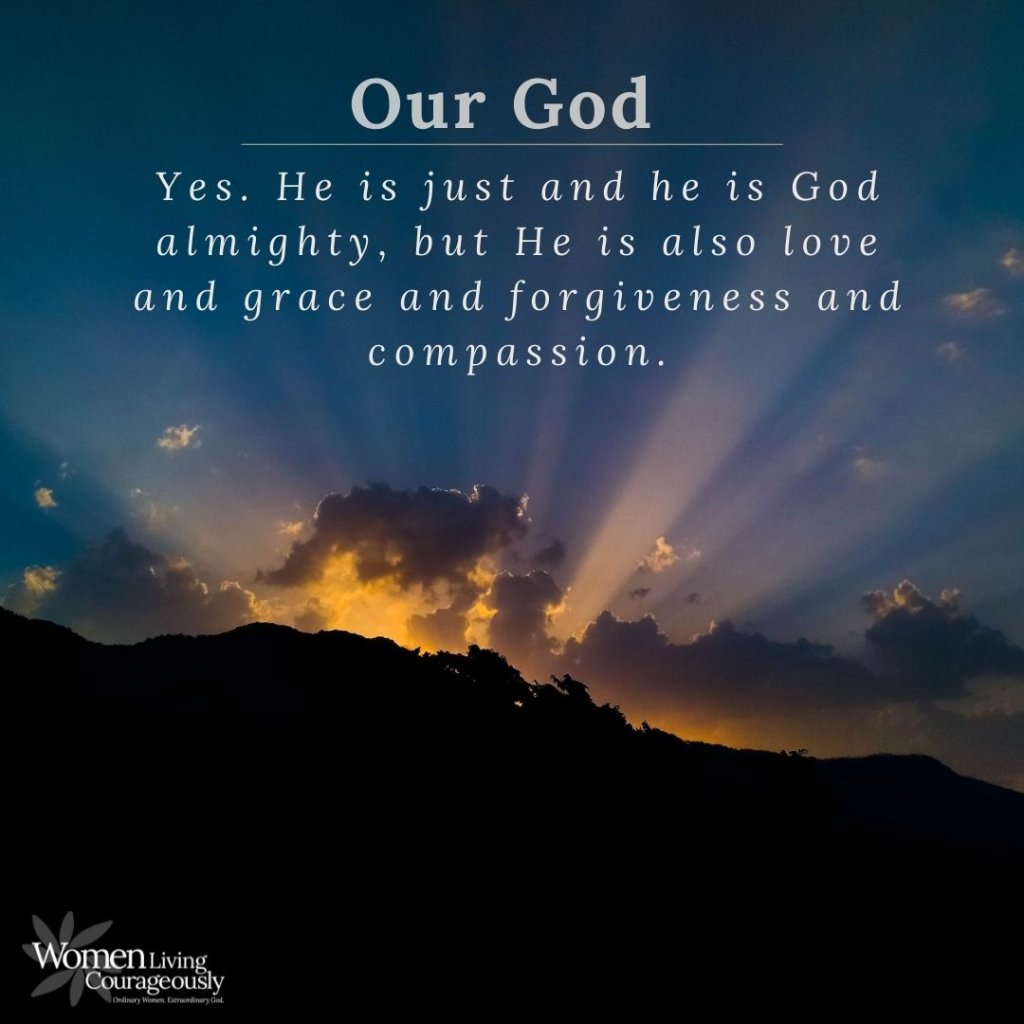 I just want to encourage you very simply to come to Jesus.
We've never needed Jesus more than we need him right now.
I want to encourage you to look to Him and turn to Him as you never have before in your entire life.
Truly, I believe there are three groups of people reading my words today.
3 Groups of People Out There – Encouraging Information about Jesus
First, there's a group of you who walk closely with the Lord Jesus.
You love him, you spend time with him, you love His word, and you are close to the Lord Jesus.
My encouragement to you today would be to press in even closer.
Draw up close to Him.
Spend more time talking with Him.
Spend more time in the Bible.
Try to spend more time with people who love Him.
Read wonderful inspirational Christian books.
Listen to inspirational music and podcasts like this one.
Get back involved in a local church and Bible study if you're not.
And grow closer to the Lord Jesus Christ.
The second group of people reading today is a group that's been away from the Lord.
You drifted away, you got away during all the pandemic season and the lockdowns.
You haven't spent as much time with them as maybe you once used to.
And, you're just not as close to the Lord as you once were.
Can I give you some good news today? Some Encouraging Information about Jesus Christ?
God wants us to come home!
I think, so often, it's easy for us to pull away from God when we sin, blow it, mess up, or struggle.
We are like Adam and Eve who hid from God in the Garden after they sinned.
But, instead, could I encourage you to picture yourself like Ruth (Billy Graham's daughter) and drive up the driveway to God's home again?
Picture Him waiting for you there on that porch.
As you get close, imagine Him coming down to meet you at your car, throwing His great arms around you, and saying, "Welcome home, Sweetheart!"
This isn't some fairytale.
It's not a pipedream.
This is the real truth, Friend!
God adores you!
He just loves you and me!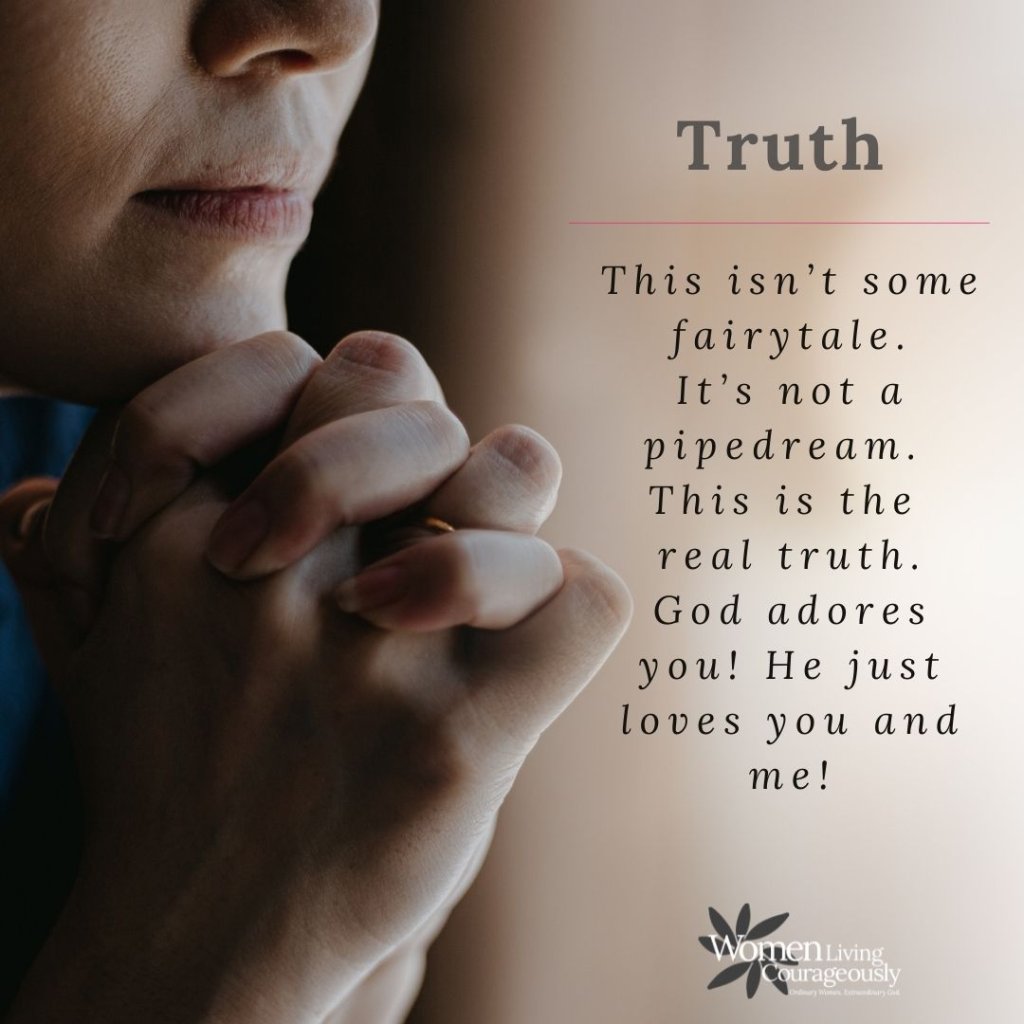 Even more than that… In Romans 8:38-39, Paul writes:
"For I am persuaded that neither death nor life, nor angels nor principalities nor powers, nor things present nor things to come, nor height nor depth, nor any other created thing, shall be able to separate us from the love of God which is in Christ Jesus our Lord."
Nothing, nothing, no nothing can separate us from His love.
Not divorce.
Not depression.
Nor bankruptcy.
Not an affair.
Not a wayward child.
Or cancer.
Not gossip.
Or skipping church.
Not being a bad parent.
Nor the worst mistake of your life.
Nothing.
Nothing.
Absolutely, nothing can separate you and me from God's love.
God loves you, sister!
And He is waiting on the porch for you to drive up!
One last group may be reading today… you may not know the Lord Jesus in a personal way.
You know about Him, but you don't enjoy a personal relationship with Him.
Today would be a great day for you to start a relationship with Him!
Let me share how you can know Him in A, B, C format.
A, B, C's of Knowing Jesus Christ Personally – Encouraging Information about Jesus Christ
A = ADMIT
Admit that you're a sinner and need forgiveness…
"For all have sinned and fall short of the glory of God." (Romans 3:23)
B = BELIEVE
Believe that Jesus Christ died for your sins and rose from the dead…
God is merciful and wants you to live.
He doesn't need anyone, but He loves you and wants you to know Him.
So He stepped in to save us if we turn away from sin–repent–and turn toward Him.
"The Lord is… not willing that any should perish but that all should come to repentance." (2 Peter 3:9)
C = CONFESS
Confess your faith in Jesus Christ and His Lordship over your life…
As a sinner you need salvation but don't deserve it and can't earn it.
In His mercy and the great love, He provided it for you.
Now come to Christ to receive it.
"If you confess with your mouth that 'Jesus is Lord' and believe in your heart that God has raised Him from the dead, you will be saved." (Romans 10:9-10)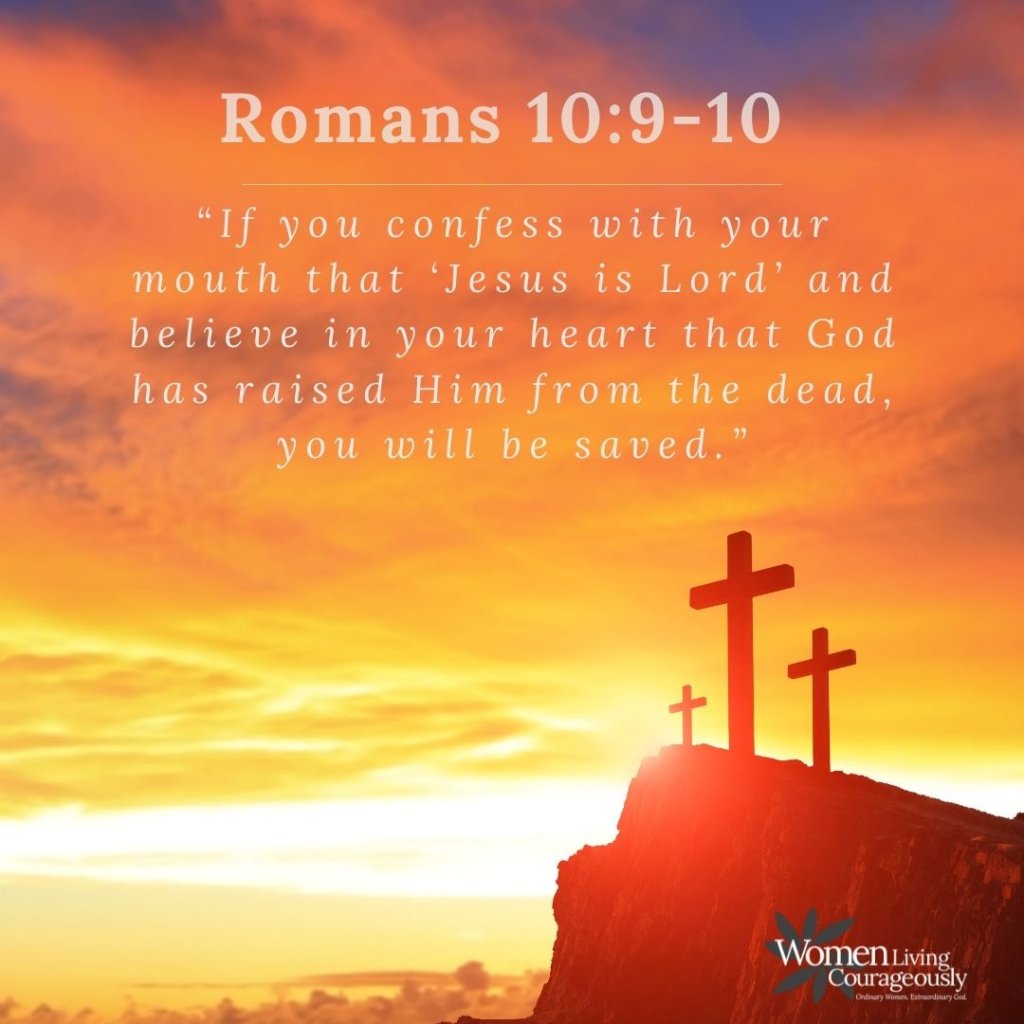 Why not call on Him today and ask Him to save you?
Also, if you'd like to know more, please email me. I'd love to talk with you more.
You can email me at mredd@lwf.org.
Our ministry partner, LWF, has made resources available to you at the link www.lwf.org/i-believe
There's no charge & no strings attached.
As we part today – Remember – we are all just ordinary women, but we serve an extraordinary God! And, He wants to be close to you!
This blog occasionally uses affiliate links and may contain affiliate links.
© Women Living Courageously, 2022. Unauthorized use and/or duplication of this material without express and written permission from this blog's author and/or owner is strictly prohibited.
Further, excerpts and links may be used, provided that full and clear credit is given to Melanie Redd and Women Living Courageously with appropriate and specific direction to the original content.