You can listen to this message on the Podcast!
To get to this episode on the podcast, just click on one of the following sites:
How Kind Are You

?
For my birthday last year, my daughter gave me the most beautiful gifts. I opened a gift bag to find two small yellow, gold, and white boxes.
On the outside were the words – "Kendra Scott."
Inside one box was a pair of lovely gold hoop earrings.
In the other was a long white-gold necklace accented with about 10 long, oblong black stones.
Truly, both are beautiful pieces, but I especially love the necklace.
Every time I wear it, I feel special because my girl gave it to me. And I always get compliments on the necklace.
It's something I'm proud to put around my neck!
Did you know that the Bible talks about jewelry

?
There are many verses about jewels and jewelry. But I want us to look at one of my favorites today that mentions a necklace.
It's in Proverbs 3:3, and this is how it reads in the New Century Version:
"Don't ever forget kindness and truth.
Wear them like a necklace.
Write them on your heart as if on a tablet."
Also, look at the NASB:
"Do not let kindness and truth leave you; bind them around your neck, write them on the tablet of your heart."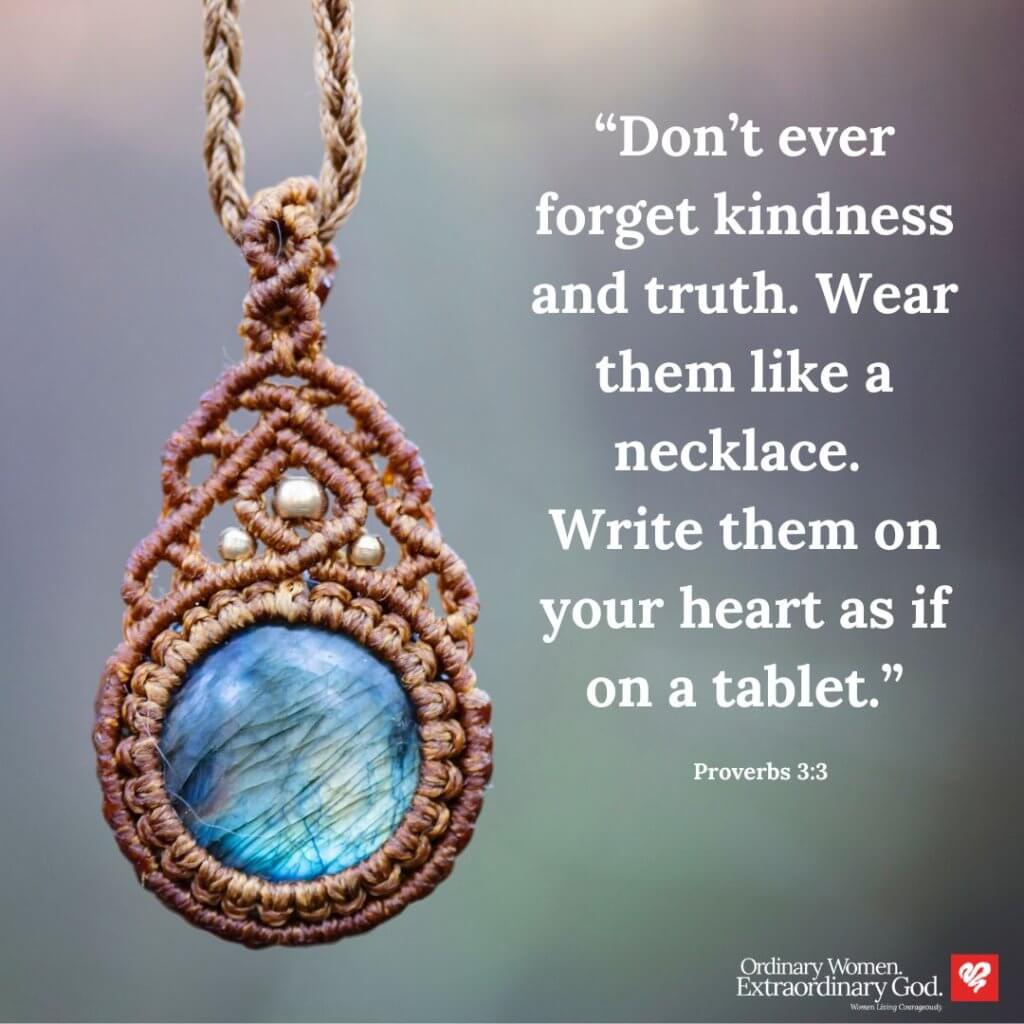 Improving Our Relationships – How Kind Are You?
This year, we are spending our time working on improving our relationships and how we love.
How do we love like God loves us?
How do we share the love of Christ with others?
In First Corinthians 13, we are told first that love is patient.
As you may recall, we talked about patience last month.
You can read the post about patience HERE.
So…

How Kind Are You

?
Today we come to the second characteristic of love, and it is this… Love is kind.
In Proverbs 3:3, we are told to put on our kindness necklace. Indeed, we are instructed to bind kindness around our neck and write it on the tablets of our hearts.
Then, in the New Testament, there is more instruction about kindness.
One verse that many of us learned as children,
"Be kind and compassionate to one another, forgiving each other, just as in Christ God forgave you." (Eph. 4:32)
Also, I love the imagery of Colossians 3:12 – MSG
"So, chosen by God for this new life of love, dress in the wardrobe God picked out for you: compassion, kindness, humility, quiet strength, discipline."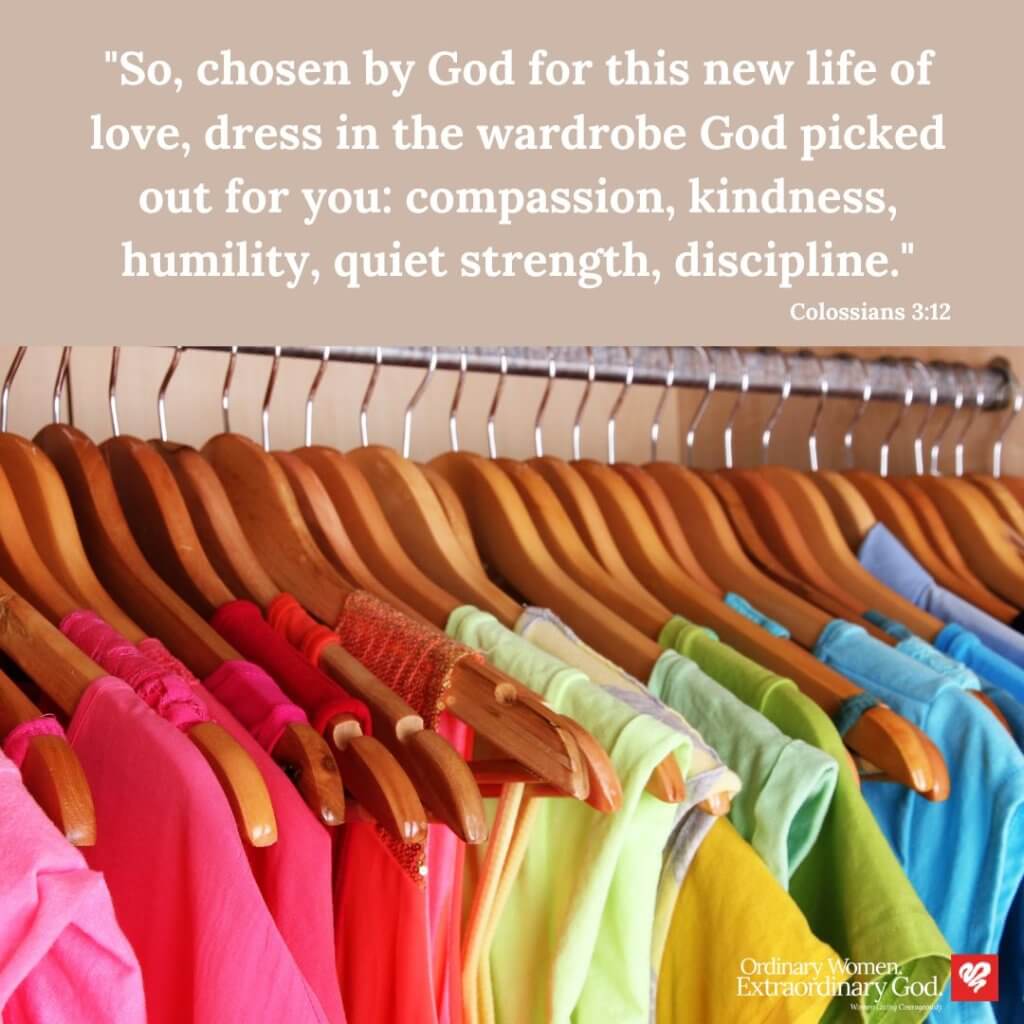 So, what is Bible Kindness

??
What does it look like?
How do we wear it?
Put it on?
And add the kindness necklace to our lives?
Let's look a little more at Bible Kindness

:
To define kindness from the world's perspective, you can look up the word in the dictionary:
Meaning of Kindness – the quality of being friendly, generous, and considerate.
Synonyms – mercy, compassion, benevolence.
On the other side, some of the antonyms to kindness include indifference, disinterest, coldness, and callousness.
All of this is well and good, but what does the Bible mean when it says love is kind? But, what does the Bible mean when it tells us to bind kindness around our necks??
The Bible's meaning for the word Kindness in the Old Testament is the word "chesed."
Moreover, this word is one of the most important words in the Old Testament!
What is Chesed

?
This word describes God's heart.
God's faithful lovingkindness is central to His character. Our God is totally full of love, mercy, compassion, and kindness for and toward us.
It's the same word used in Lamentations 3:22, where the Bible says,
"It is because of the Lord's mercies ("chesed") that we are not consumed because his compassions fail not."
Our God is rich in mercy toward us.
Rich in kindness.
Rich in love.
Because we are His followers, we are also supposed to be totally full of love, mercy, compassion, and kindness for God and others.
God is "chesed" to us, and we are to be "chesed" to others.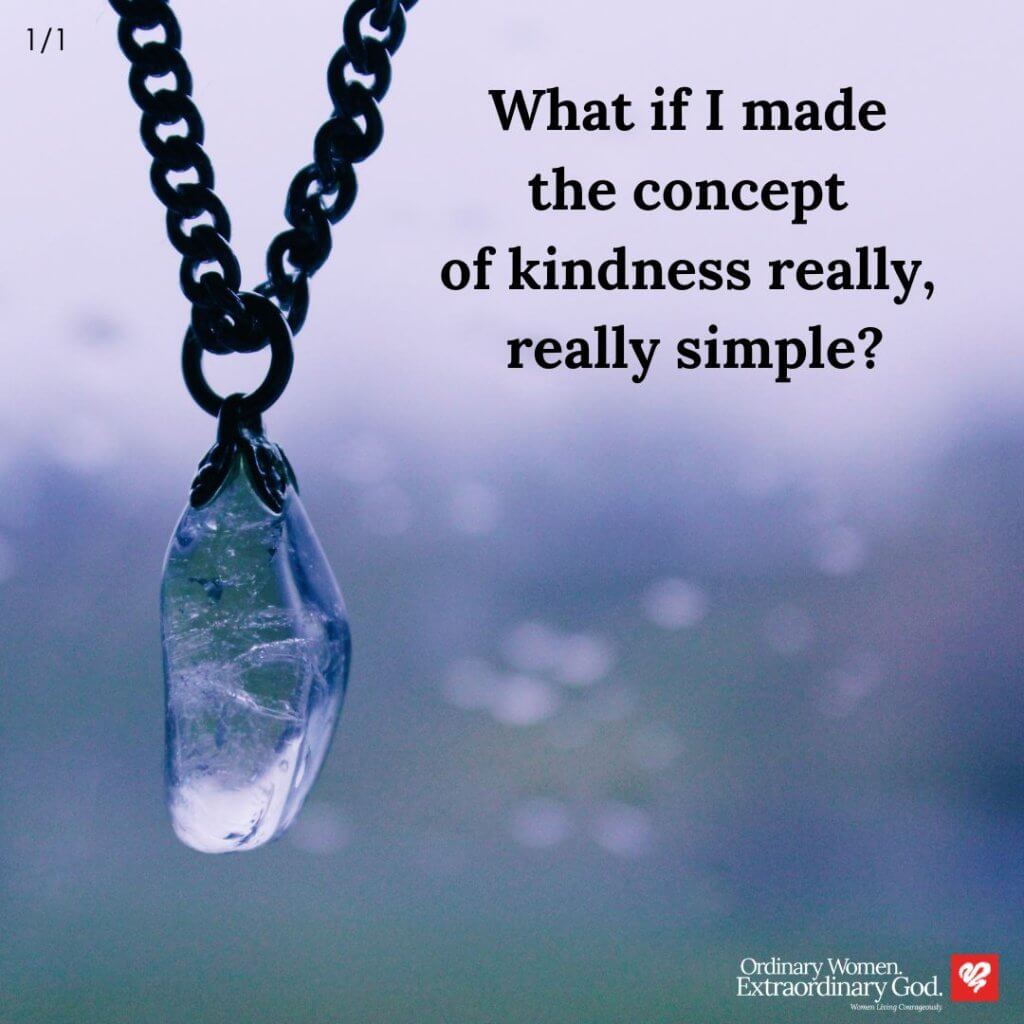 How does this play out

??
Let's make this practical.
Let's talk about what Bible Kindness ("chesed") is not:
Not sappy
Not fake
It isn't syrupy sweetness
Not just Southern manners
Not Put on
It is not "bless your heart."
Not only for the nice ones of us!
Some of you are ready to give excuses right now

!
About being kind.
You may want to offer the "Family Origin Excuse."
"I'm just a realist. I'm honest and straightforward just like my momma and my grand momma.
In fact, all of the women in my family are pretty blunt and honest, and straightforward.
We tell it like it is!
That's just the way we Smith Women are!"
Personality Type Excuse

.
Or, you may want to offer the personality-type excuse:
"Melanie, I took one of those personality tests, and I am choleric.
We are blunt, honest, and straight to the point.
We go after what we want, and we really don't have time for all of this sappy stuff!"
Or, you may say, "I took that Enneagram test, and I am a Number 1 on the Enneagram.
I like perfection, and when I don't see it, I just don't say it.
And, I like to call things as I see them.
All of this talk on kindness is a waste of my time!"
Or, you may want to offer the My Life is Hard Excuse:
"My life is so hard. No one is really being kind to me, and I have nothing to offer.
Do I really have to focus on this right now?"
The Story of the Grumpy Pastor's Wife
A few years ago, I had the chance to speak at a church Christmas event.
I was asked to speak about the gift of Jesus at Christmas. And, I was also asked to encourage the ladies to give the gift of Jesus at Christmas.
As I began to speak, I let them know what we are going to be talking about that night.
For the event, the pastor's wife was seated next to my adult daughter.
She turned to my daughter when I began and said,
"I have nothing to give, and I really don't want to hear this tonight."
Maybe you can relate to her?
Pastor Adrian Rogers once said,
"God loves us just like we are, but He also loves us too much to leave us this way."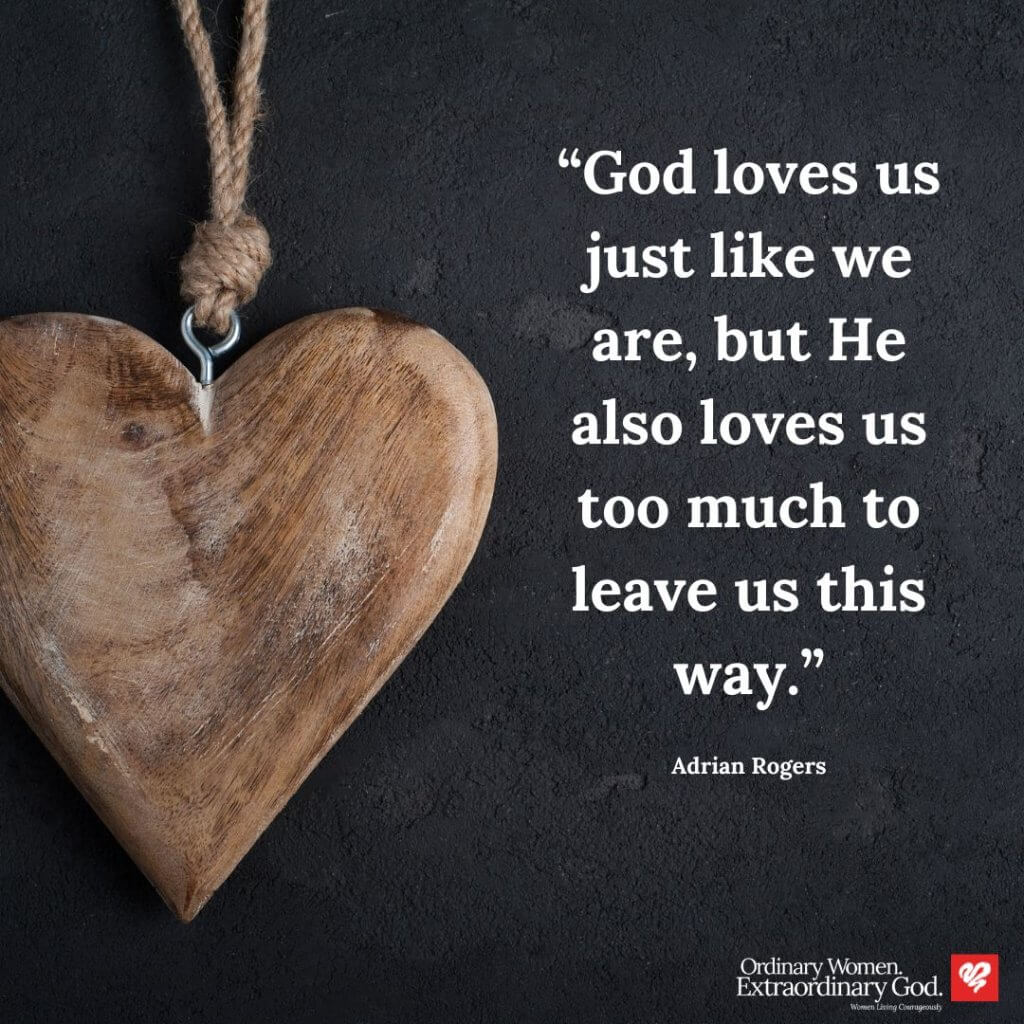 What if I made the concept of kindness really, really simple

?
For you see, I believe so much kindness is just done in simple little acts of love.
Kindness is the text message you send when someone's on your heart.
And, kindness is a big hug for no reason.
Kindness is noticing someone got their hair cut and saying something about it.
Kindness is looking someone in the eyes and listening while they're talking to you.
Also, Bible kindness is noticing when someone is hurting and asking how they're doing.
Kindness is saying thank you and expressing gratitude.
Also, Kindness is giving a little extra tip to your server at the restaurant.
Bible kindness is not MONUMENTAL, but it is MEMORABLE!
Truly, Bible kindness is just taking that one extra moment to make someone else feel noticed or special, or important.
"I've learned that people will forget what you said, people will forget what you did, but people will never forget how you made them feel."
Maya Angelou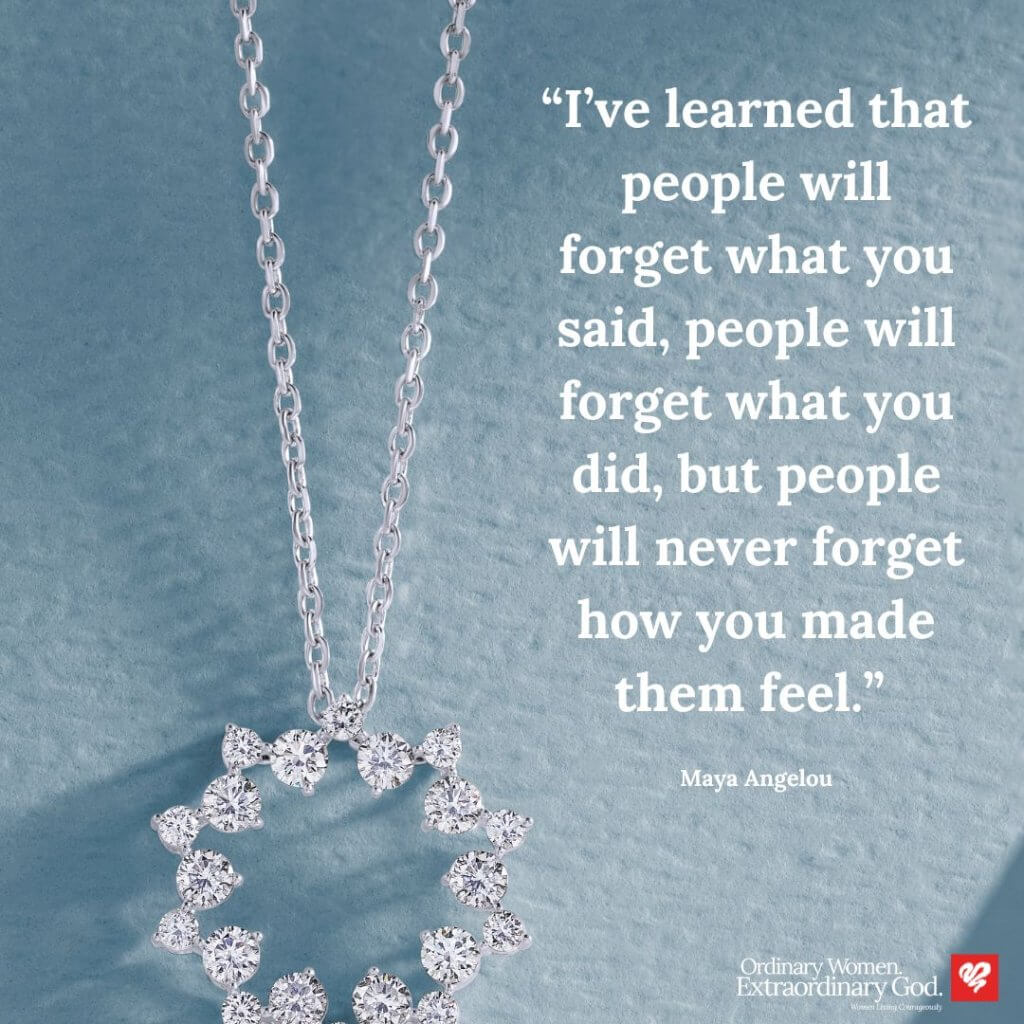 A Wonderful Story about Making Others Feel Seen & Heard
Years ago, we lived outside of Atlanta, GA. My husband and I led a young, married Sunday school class at the time.
We had the most amazing group of young couples and the whole experience was really sweet. Truly, we loved that class!
However, the time came for us to move to another job in another city and we had to leave them behind. They threw us a going away party and shared stories of what they remembered about our class.
We thought they would remember all of the lessons and talk about the things that we had taught them.
However, most of the stories were more about their personal relationships with us and how we treated them.
One young man, in particular, shared a story that has always stuck with me. He focused on one memory that had greatly impacted his life.
The Volleyball Game
For the event, we have been playing volleyball as married couples out at the church's outdoor volleyball court.
Instead of using sand, the church had hauled in a huge amount of peat moss to cover the bottom of the volleyball court. It was like little sticks and pieces of wood all over the volleyball court.
On the day that we were playing volleyball, this young man was particularly aggressive in the game.
As we got to the end of the game, he realized that he had lost his wedding band. So, we all begin to search for it.
We searched for over 2 hours, with most of the people leaving before we found the ring.
However, my husband would not give up looking for that ring with this young man.
And eventually, we found it!
And that is what that young man remembered. He remembered an older man that was willing to search for a couple of hours for a wedding ring with him.
What did my husband show that day?
He showed God's kindness.
And, He demonstrated "chesed" that day.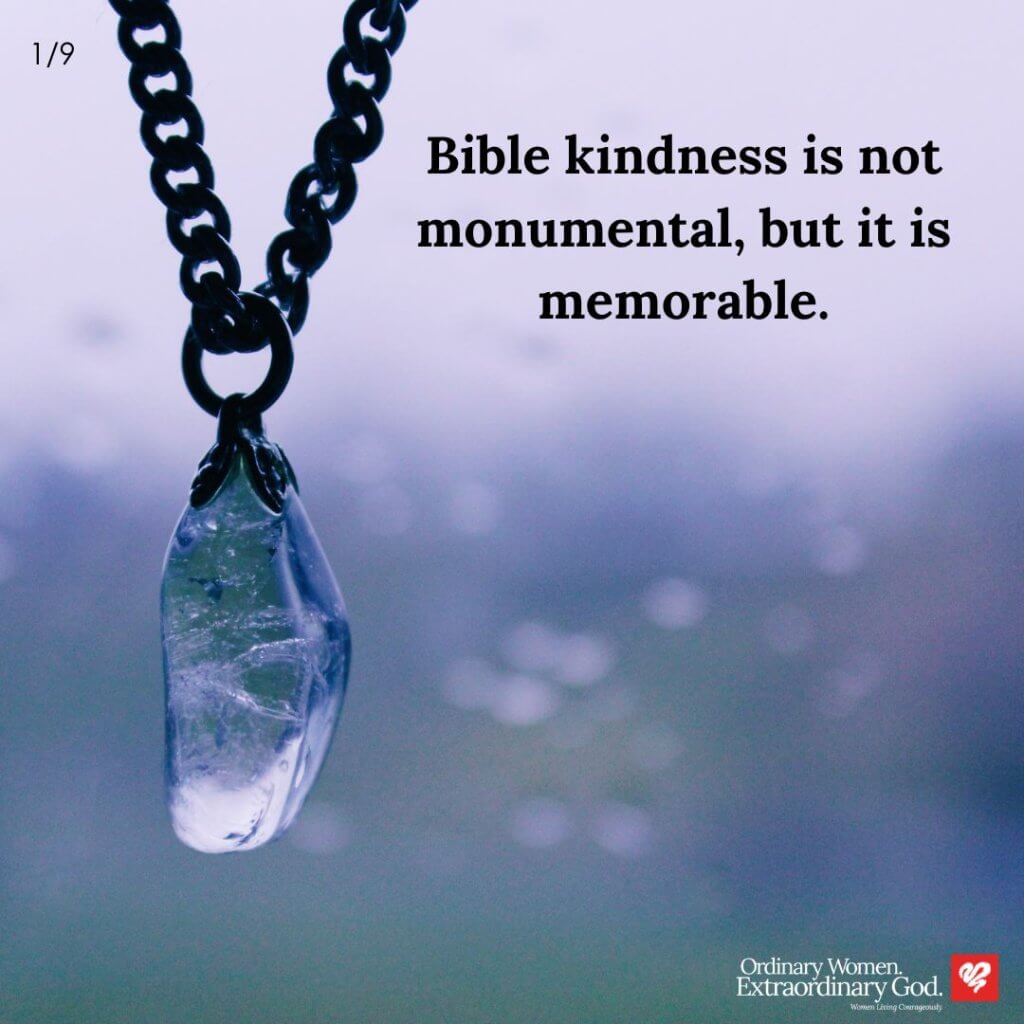 And that's what people are dying to see and experience

.
People all around us need to see the kindness of our Savior and how His kindness has changed our lives!
This week, I want to encourage you to get that kindness necklace out of your closet or out of your jewelry box and put it on.
Wear it with every single outfit.
As you wear it, look around and ask God to give you the eyes and the ears, and the heart to share the love of Jesus about being more behind.
Pastor Adrian Rogers put it this way,
"At the end of the day, we may not feel like being kind.
Our human nature is a roller-coaster ride of feelings and emotions that don't always align with the fruit of the Spirit.
However, God's kindness can flow through us no matter what the circumstance."
Let's End with a Little Glitter
A friend of mine shared a fun story that I want to finish with today.
As she was teaching preschoolers in Sunday school, they were using glitter for their craft that day.
One particular little girl got very excited about the gold glitter. This little girl got gold glitter ALL over her paper and everywhere else.
As the little girl left the room, there was gold glitter in her chair and on the floor around where she had been.
Later after church, as the preschool teacher was cleaning up in the sanctuary, she found where the little girl had been sitting in the service.
In that little preschooler's spot on the pew was a whole bunch of gold glitter.
Because that little girl had gotten so overwhelmed by the gold glitter, she couldn't help but spill it and share it and leave it everywhere she went.
That's the way it ought to be with the kindness of our Savior.
How Kind Are You

?
As we get overwhelmed and excited about His love and mercy toward us, we can fill up on Him.
Then, as we go out into the world, that gold glitter ought to spill onto every person and place that we go.
There ought to be a trail of the gold glitter of kindness falling behind us.
When people sit where we have been, they ought to see little piles of kindness and mercy and compassion.
That's what Bible kindness looks like.
May we spread it around liberally!
Like gold glitter!!
Could I ask one quick favor before we go

??
Will you follow the podcast? Go to the little banner on the top right of the iTunes page and click it. You can link to iTunes here – iTunes.
Also, on other podcast channels, you can follow or subscribe as well.
This way, you'll get notifications when there is a new episode!
Remember
Yes! We are ordinary women, but we are pursuing an extraordinary God. And He is crazy about you!
Want to Read More Posts about Better Relationships

?
Five Easy Ways to Combat Loneliness
12 Ways to Have More Joy & Laughter in Your Life
Maybe It's Time to Adjust Our Expectations
How to Stop Being a People-Pleaser
This blog occasionally uses affiliate links and may contain affiliate links.
©Ordinary Women, Extraordinary God, 2023. Unauthorized use and/or duplication of this material without express and written permission from this blog's author and/or owner is strictly prohibited.
Further, excerpts and links may be used, provided that full and clear credit is given to Melanie Redd and Ordinary Women, Extraordinary God, with appropriate and specific direction to the original content.