You can listen to this message on the Podcast!
To get to this episode on the podcast, just click on one of the following sites:
The New Puppy
A few months ago, we adopted a new puppy.
Our other dog had moved out of the city with our daughter, and we were really missing having a dog in the house.
From the moment that Scout (a miniature Australian Shepherd) came to live with us, things changed!
Indeed, this little guy gets into trouble, makes messes, tears things up, and needs a great deal of attention.
However, no matter how much trouble he gets into, what he tears up, and how much he messes things up… we love him!
In fact, I JUST ADORE HIM!
Nothing is going to change that!
Truly, my love for my puppy is a lot like God's love for you and me.
What's God's Love Got to do with it all

?
It's true – God really loves us!
No matter how much we mess up, get into trouble, or tear things up, God adores us.
Yet, I think too often we picture God as this overbearing, angry, immortal being who is waiting for us to mess up.
But our God is a whole lot more like me with my new puppy.
Because I know that many of you don't have that sense of God, or may not believe me, let's talk a little about this today.
What's love got to do with it?
What's God's love got to do with it all?
It's Easy to Lose Sight of God's Love

!
Sometimes, it's easy for us to lose sight of how much God loves us.
Life happens.
Heartaches happen.
Mistakes happen.
Or, we blow it.
We make a mess of things.
Or, we don't feel loved.
And sometimes, we just forget.
But I love this quote from Pastor Adrian Rogers…
"Even when you don't feel loved, God loves you."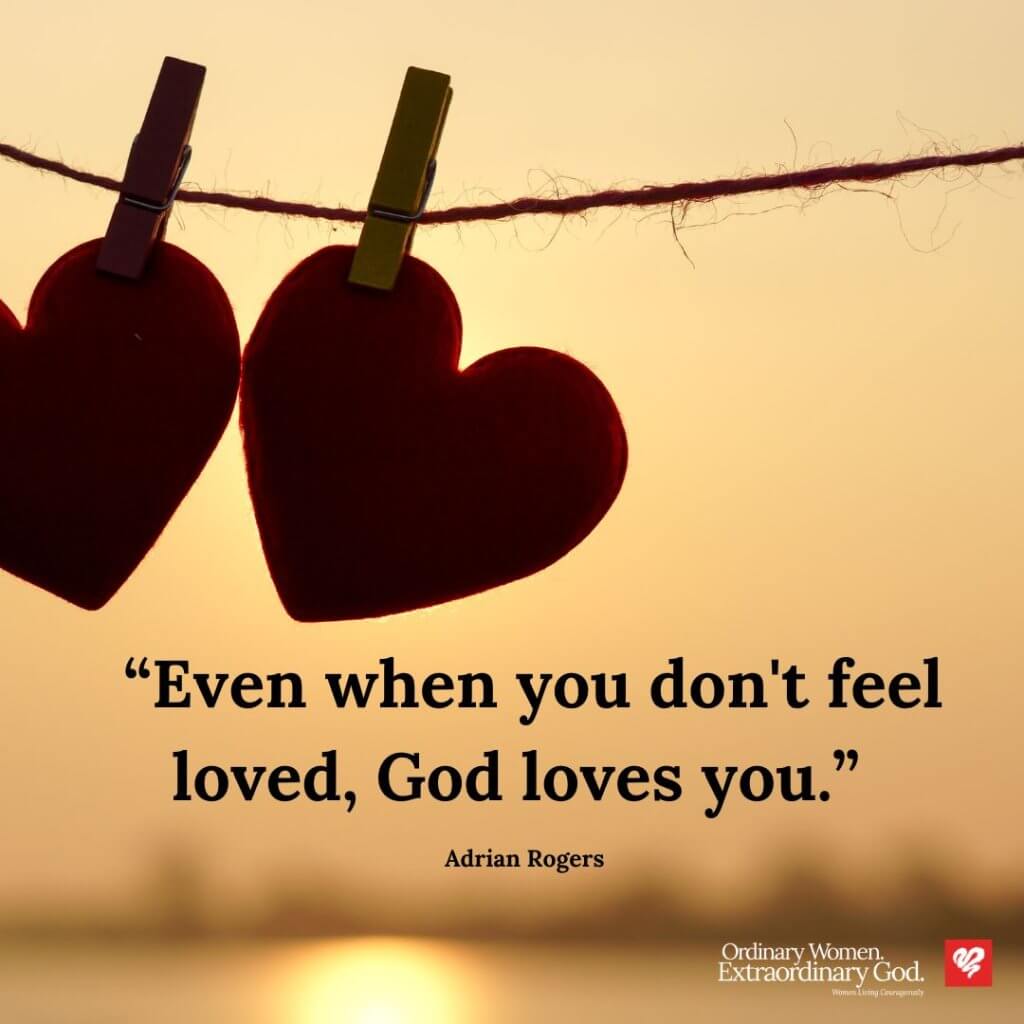 So in this short devotional today I want to give you two things

.
First, I want to share one of my favorite passages of Scripture with you.
It's about the love of God.
Second, I want to give you an incredible way you can begin to pray about the love of God.
Honestly, I go to these verses all the time! And, I want to encourage you to start reading them, maybe even daily.
These truths come from Romans chapter 8.
Hope about God's Love from Romans 8
This is Romans 8:31-39 from The Message:
"So, what do you think? With God on our side like this, how can we lose?
If God didn't hesitate to put everything on the line for us, embracing our condition and exposing himself to the worst by sending his own Son, is there anything else he wouldn't gladly and freely do for us?
And who would dare tangle with God by messing with one of God's chosen?
Who would dare even to point a finger? The One who died for us—who was raised to life for us!—is in the presence of God at this very moment sticking up for us.
Do you think anyone is going to be able to drive a wedge between us and Christ's love for us?
There is no way!
Not trouble, not hard times, not hatred, not hunger, not homelessness, not bullying threats, not backstabbing, not even the worst sins listed in Scripture…
None of this fazes us because Jesus loves us. I'm absolutely convinced that nothing—nothing living or dead, angelic or demonic, today or tomorrow, high or low, thinkable or unthinkable—absolutely nothing can get between us and God's love because of the way that Jesus our Master has embraced us."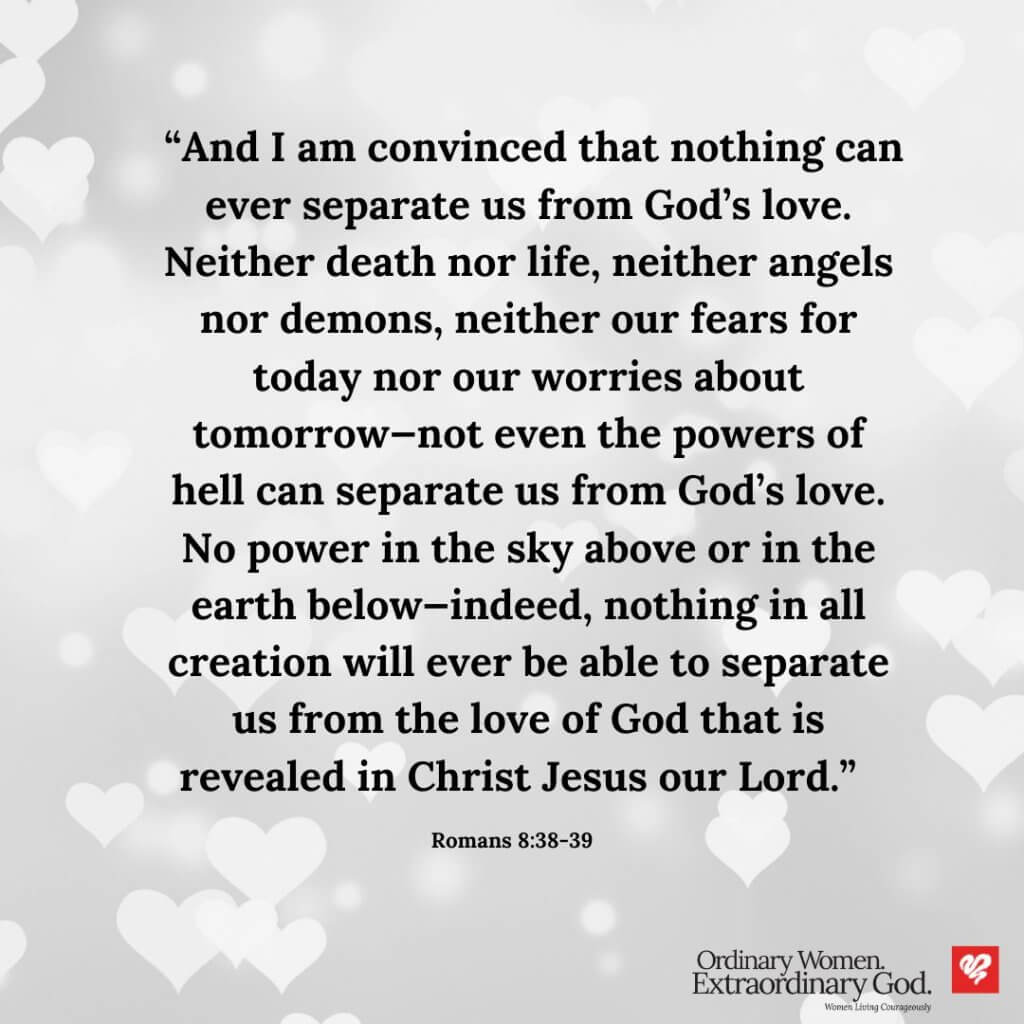 In Other Words
I also love the way the last part of this passage reads in the New Living Translation:
"And I am convinced that nothing can ever separate us from God's love.
Neither death nor life, neither angels nor demons, neither our fears for today nor our worries about tomorrow—not even the powers of hell can separate us from God's love.
No power in the sky above or in the earth below—indeed, nothing in all creation will ever be able to separate us from the love of God that is revealed in Christ Jesus our Lord."
Romans 8:39-39
Here's the Big Point about God's Love:
Nothing, nothing, nothing can separate you or me from God's love.
Nothing and no one can drive a wedge between us and Christ's love for us.
There is no way!
Pastor Adrian Rogers said this about God's love:
"When did Jesus START loving you?
He never did—He has always loved you.
And, He loved you before time began.
He loved you before He swung this planet into space.
You were in the heart and mind of God before the foundation of the world."
Another Way to Love at God's Love
Best-Selling Writer and scholar C.S. Lewis said,
"Though our feelings come and go, God 's love for us does not."
So, how do we become more convinced of God's love for us?
How do we enjoy God's love more this year?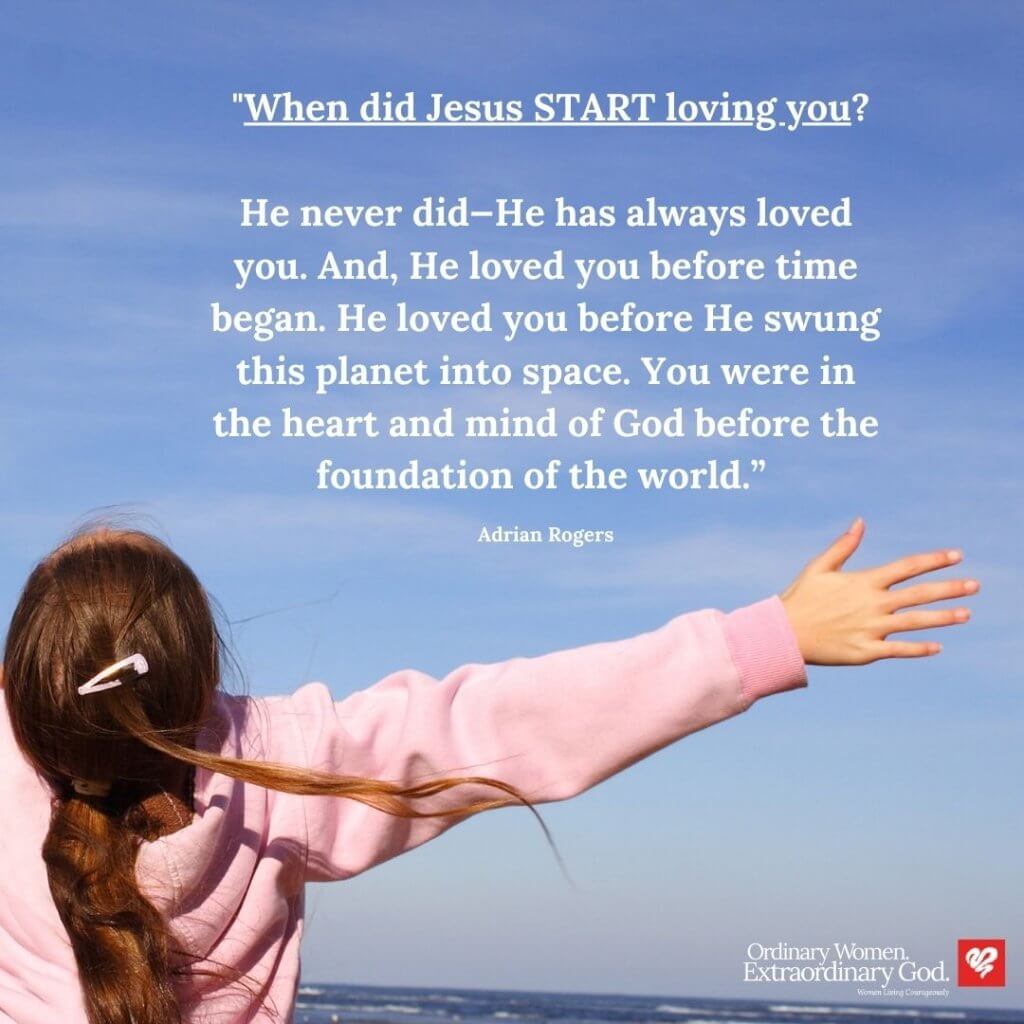 How to Pray for More of God's Love
Truly, I want to encourage you to pray – very specifically!
Here's the prayer:
"God, would you show me, teach me, and make me aware of just how much You really love me?
Lord, open my eyes to see Your love.
Open my ears to hear Your love.
Open my heart to experience more of Your love!"
My Story about God's Love
In my own life, I started praying this way years ago.
And it rocked my world!!
I quit trying to prove who I was to everyone else.
Then, I began to get more comfortable in my own skin. And, I began to rest in the incredible acceptance and love of God for me.
From filling up with God's love, I could love other people much more freely.
The love of God changed and changes everything for me.
And… the love of God can change everything for you too.
Jesus Love Me, This I Know
All of our lives, we have sung, "Jesus loves me this I know, for the Bible tells me so."
If we could really grasp the power of those simple words that we've been singing since we were children, our worlds would be different.
So, why not ask God to rock your world today?
Pray and invite him to show you just how much He loves you.
(Why not print this prayer that it below and start praying it regularly?)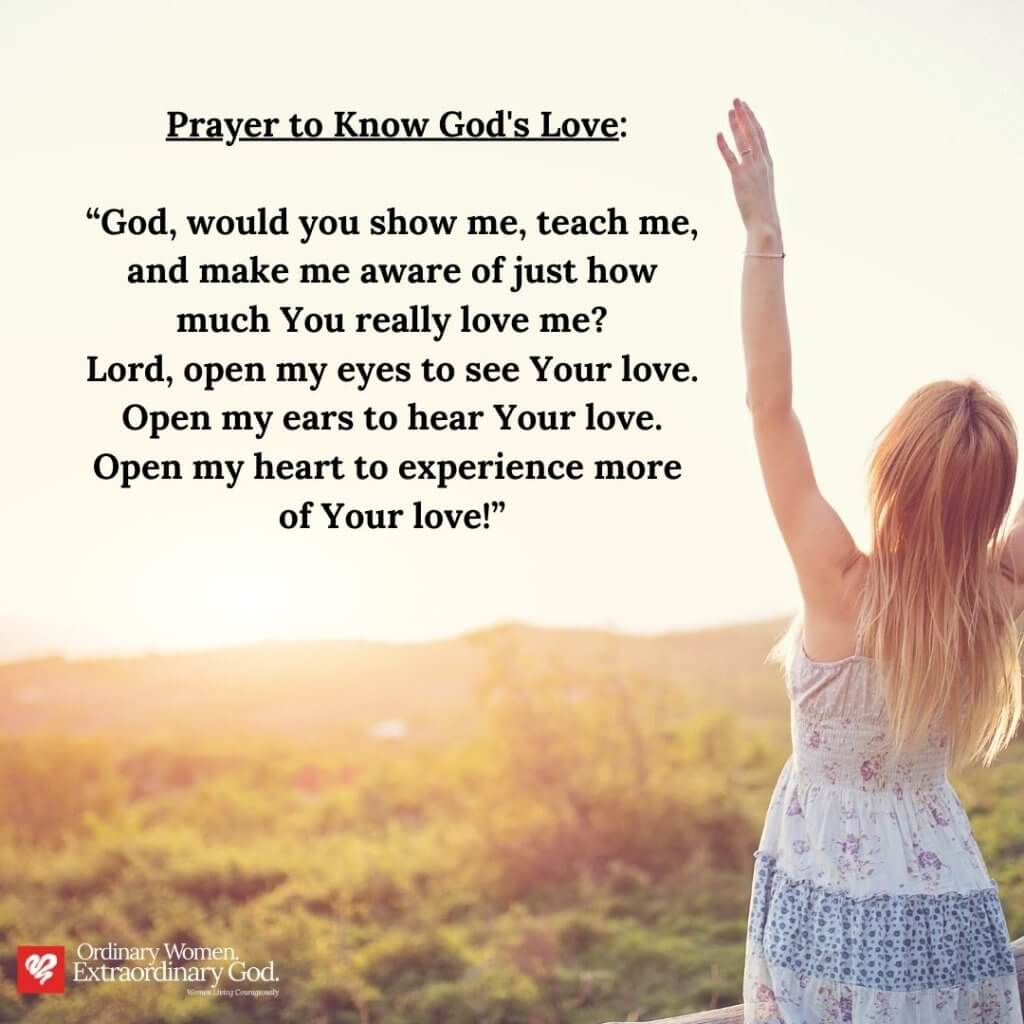 Back to the beginning and my puppy

.
It's true: I adore that little dog no matter what!
He's my precious puppy, and I love him. You may want to follow me on Instagram or Facebook to see just how cute he is!
(Connect with me on Facebook by clicking HERE and on Instagram by clicking HERE.)
I share his pictures and stories often!
In the same way, we are precious to God, and He loves us. He just does!
I believe this, and I want you to begin to believe it and experience it as well.
As we conclude, let's pray

:
"And may all of us have the power to understand, as all God's people should, how wide, how long, how high, and how deep his love is."
May we really begin to be overwhelmed and overcome by Your amazing love for us!
As we go, can ask I ask 3 quick favors

:
First, will you leave us a podcast review?
You can go over to the Podcast by clicking HERE!
These are essential to the growth of our ministry.
If you leave a new review and send me a picture or a screenshot of that review – I'll have a great free gift sent to you! Woohoo!
Second, will you tell someone about our ministry?
Let your friends, family, and co-workers know where they can find inspiration and encouragement!
Finally, will you talk to us?
Send us an email, a comment, or a direct message.
Share an idea or a prayer request. We LOVE to hear from you!
Remember
We are ordinary women pursuing an extraordinary God who dearly loves us!
In Him, you and I can face the future without fear!
Want More Hope & Encouragement

?
Visit our Podcast Channel!
Visit our YouTube Channel!
Join us on Instagram!
Connect with us on Facebook.
Get the FREE Scripture Writing Plan – all about love!
Would You Like to Support Our Ministry

?
Our friends at Love Worth Finding make this ministry possible!
LWF is supported by generous gifts from people who are blessed by our ministry.
If you'd like to know more or contribute, click HERE!
This blog occasionally uses affiliate links and may contain affiliate links.
©Ordinary Women, Extraordinary God, 2023. Unauthorized use and/or duplication of this material without express and written permission from this blog's author and/or owner is strictly prohibited.
Further, excerpts and links may be used, provided that full and clear credit is given to Melanie Redd and Ordinary Women, Extraordinary God, with appropriate and specific direction to the original content.