You can listen to this message on the Podcast!
To get to this episode on the podcast, just click on one of the following sites:
God, Give Me Grace

!
Over the summer, my sweet Mama spent an entire month in the hospital.
Day after day, different doctors, nurses, and hospital workers would come in and assist her.
They brought her food, checked her vital signs, and took amazing care of her for the duration of her stay.
We were so blessed to see the care, concern, and kindness of all of the staff of Baptist Hospital and Baptist Rehab Hospital.
For two weekends, I spent the night in the hospital with my mom. This was quite an adventure, to say the least.
It helped me to keep up with how she was doing, and to make sure she got quality care on those weekends when the staff was rather slim.
On the second of the two weekends that I stayed overnight; one particular nurse impacted us. This nurse was a traveling nurse, and it was the first time I had encountered her.
She took amazing care of my mom.
The night she cared for us; she was with us for a full 12-hour shift. She came in often and checked to see how things were going.
Truly, she went beyond the call of duty to make sure my mom's needs were taken care of.
And, she was unusually kind and compassionate.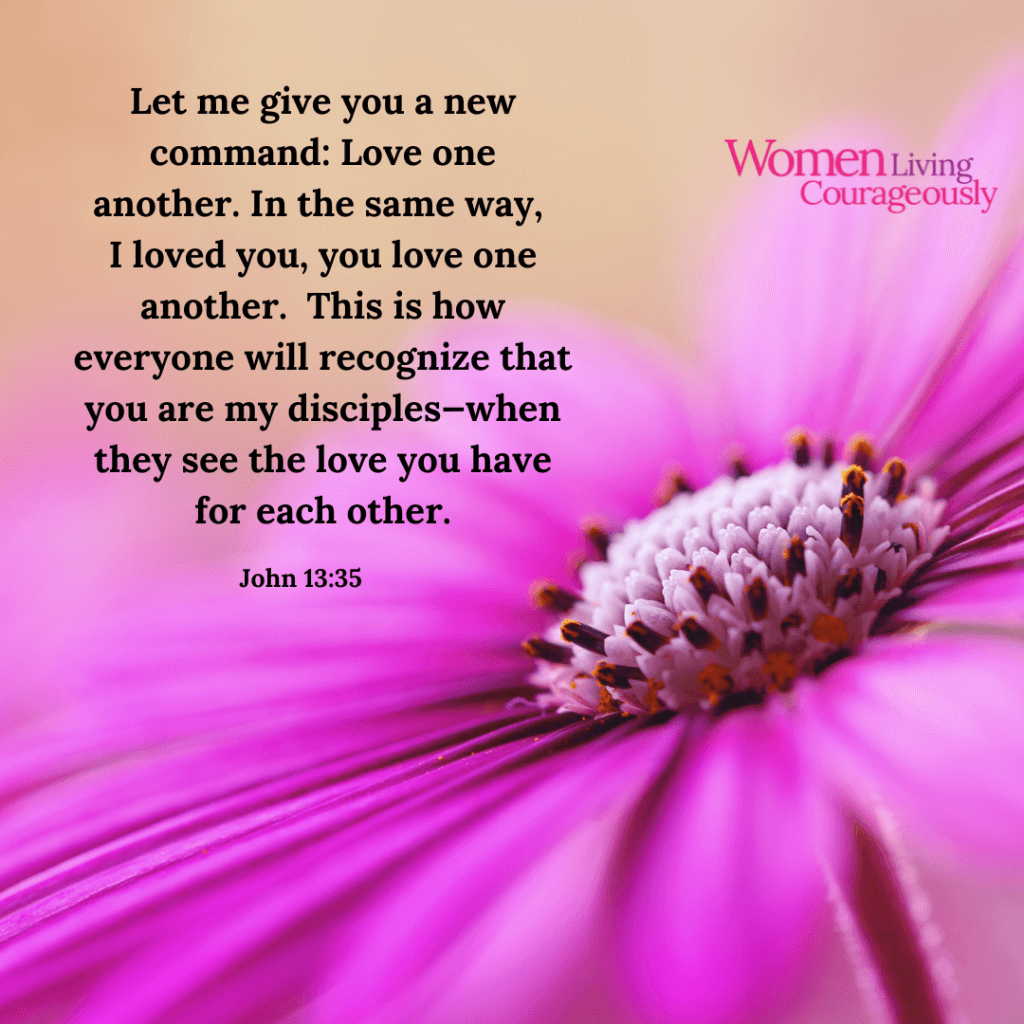 Give Me Grace: A Wonderful Picture
What struck me most was the morning after she had been there all night working.
It was about 6:30 in the morning, and she was to get off at 7:00.
I know she must have been exhausted because I was exhausted just sleeping in the hospital.
On this particular morning, my mother was concerned about having her hair combed.
But no one wanted to touch her scalp because she had had brain surgery. Honestly, we were all afraid to upset the stitches or cause some kind of medical issue if we brushed her hair.
When my mom mentioned the desire to have her hair brushed to the nurse, the nurse went and got her a comb.
Then, very tediously and very carefully, that nurse began to come and fix my mother's hair.
She formed some curls with their fingers, She smoothed them out, and she took about 20 minutes to fix my mother's hair.
I know this was not in her job description. And I knew she had been working for 11 1/2 hours straight.
But she took moments to show a lot of grace to a little lady who wanted her hair fixed.
It Was Amazing Grace Really
At that moment, even sleep-deprived, I recognized what was happening.
We were experiencing a moment of "Amazing Grace" imparted from one human to another.
And I believe that sweet nurse's name was Lauren.
But I never saw her again after that night. She came in for that one shift, and then she left.
However, her treatment of my mom will affect me for the rest of my life.
Indeed, I saw a beautiful picture of someone who went the extra mile for someone else.
That's what I want us to think about today... Giving Grace.
Giving grace.
Extending grace to other people.
I'm not sure we've ever needed grace as we need it right now. Yes, we need God's grace. Absolutely!
But we also need grace from our fellow humans.
And we need to give grace to our fellow humans.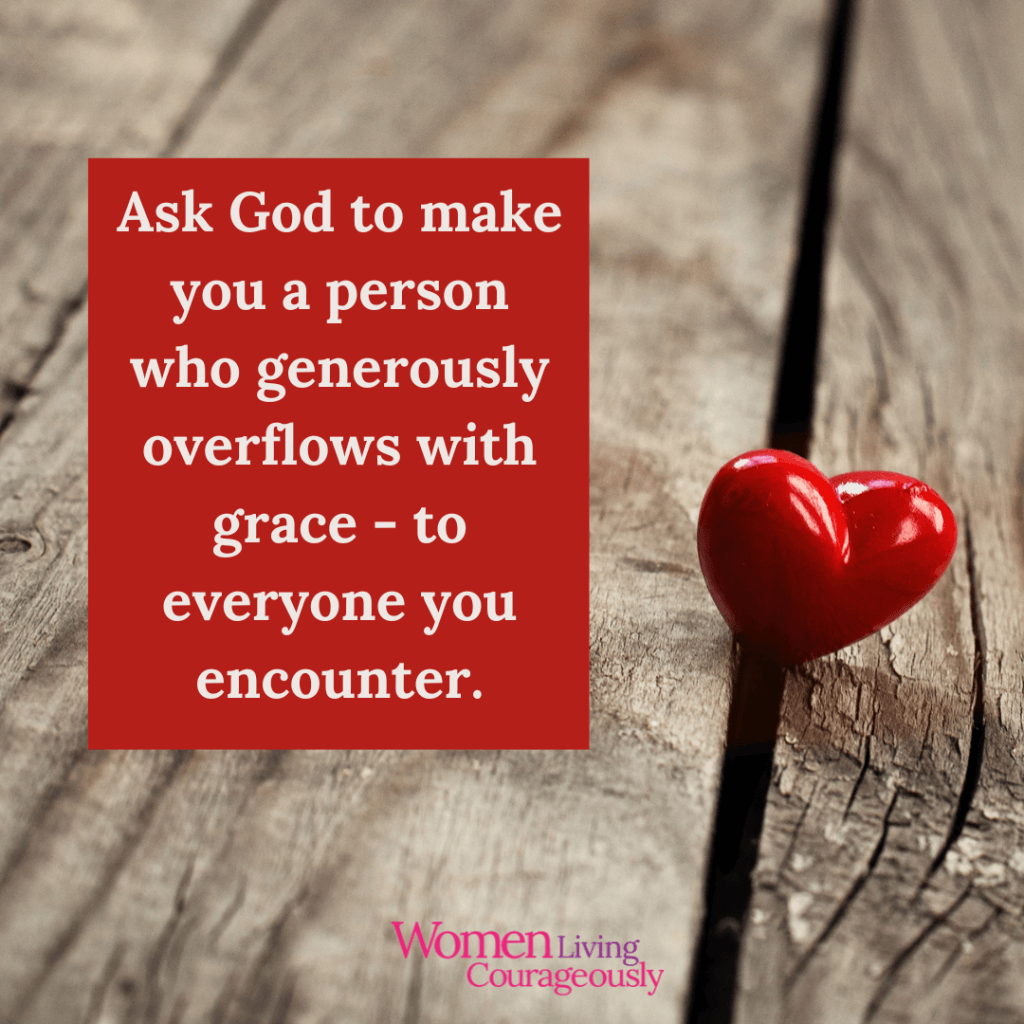 Give Me Grace: I know it's hard

!
I don't think it's ever been more challenging to be nice and gracious and kind to other people.
However, as one national leader recently said,
"No matter where we are on the globe, North is still north.
If you're in a raging storm, North is still north.
If the seas are calm, North is still north."
Good reminder!
And may I add… No matter what is going on around us, Jesus is still Jesus.
And we need to act like Him even more than we ever had before!
People need to see that what we have is real

!
People around us need to see that Christians are different because of what Jesus has done in our lives.
Truly, we ought to be the MOST grace-filled people that others encounter all day long.
Moreover, Jesus-followers ought to be the kindest, most compassionate, most loving people on the planet.
Sadly, that's often not the case.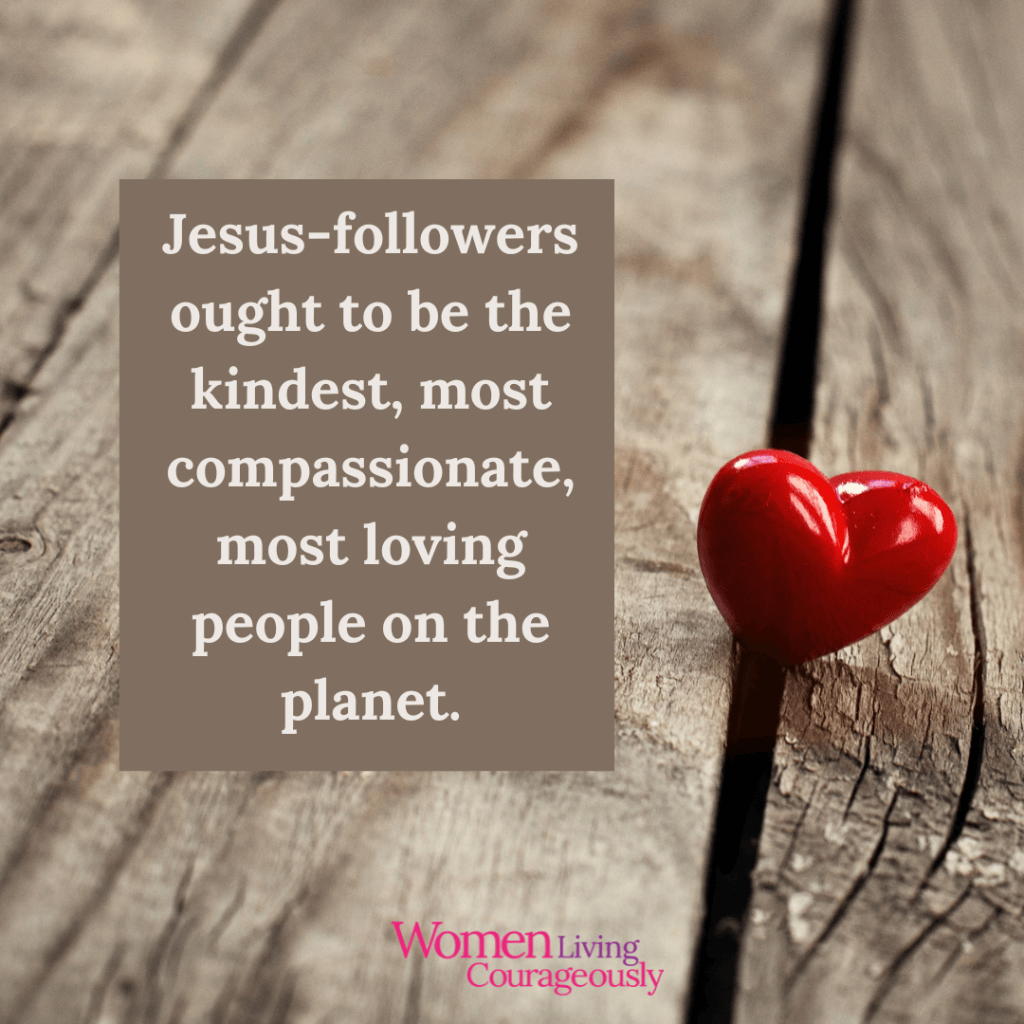 It's Easy to See When We Don't Share Grace

!
A while ago, I heard a pastor share a story about some research that was done on Sundays at lunch in several area restaurants.
In the study, waiters and waitresses were interviewed about the way they were treated and tipped on a typical Sunday after church.
When describing their least favorite customers, they said they HATED the church groups.
Those servers that were interviewed said that the church people were the rudest, most demanding, and the least generous tippers of all the people that they served in an entire week.
Ugh.
I hate to hear it, but I know it's probably true!
So, what can we do to improve on giving grace to other people

?
What can we do as God's people to extend more grace, more compassion, and more kindness to those people we encounter all along?
How can we allow God to give us more grace to others?
Let me share a couple of verses with you and then give you 3 quick ways to add a little more grace to your life

:
Colossians 3:14-16:
Since God chose you to be the holy people he loves, you must clothe yourselves with tenderhearted mercy, kindness, humility, gentleness, and patience.
Make allowance for each other's faults and forgive anyone who offends you.
Remember, the Lord forgave you, so you must forgive others.
Above all, clothe yourselves with love, which binds us all together in perfect harmony.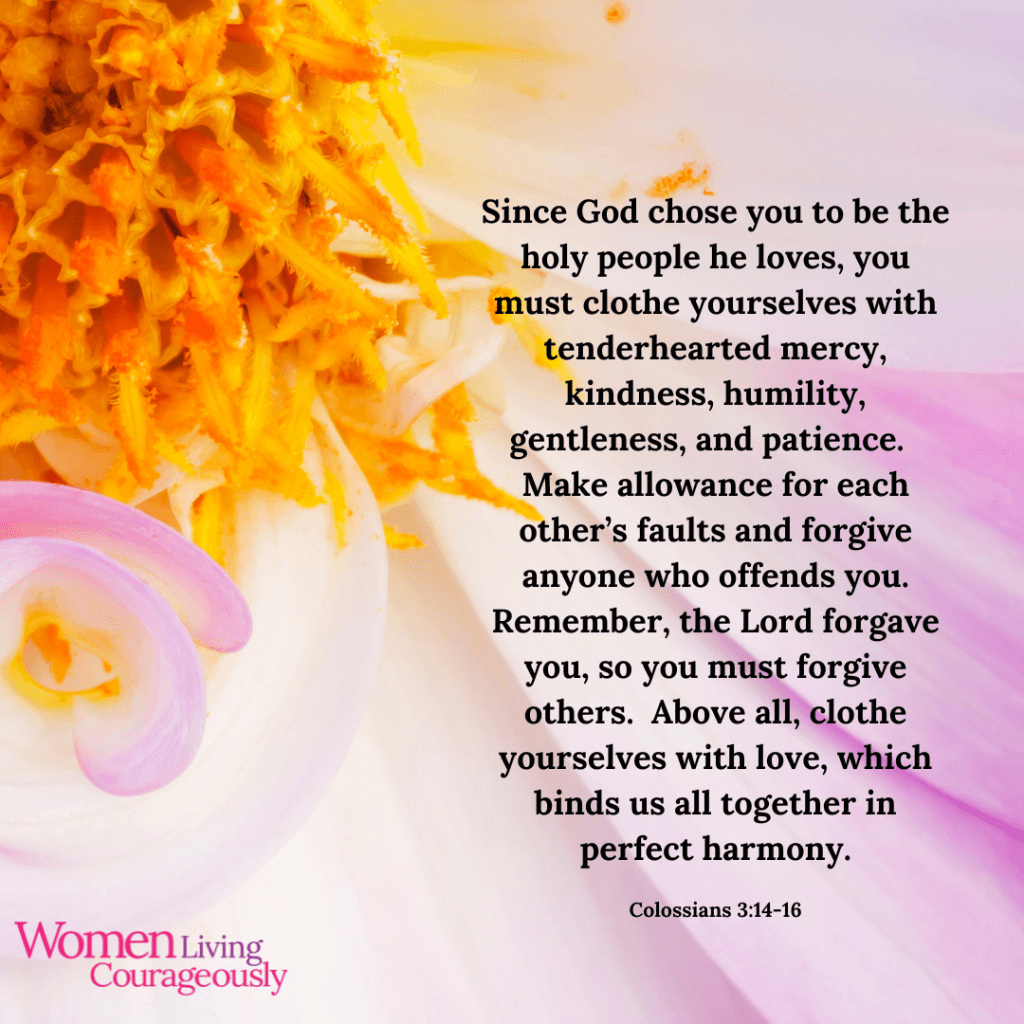 3 Quick Ways to Add More Grace to Your Day
First

… Start with Jesus.
Clothe you in "mercy, kindness, humility, gentleness, and patience."
Picture yourself getting up every morning and putting on a grace t-shirt!
Second

… to add more grace to your day, spend at least a few minutes every morning in the Bible.
It will give you more grace!
If you don't know where to start, read a Proverb a day, go through the Psalms, or read through the book of John.
Third

… Ask God to make you a person who generously overflows with grace – to everyone you encounter.
Ask Him to build grace and infuse grace into your life!
He is well able to make you a more gracious and compassionate person.
Next, I want to give you five very challenging and practical ways to give the grace of God to others in your daily life

:
First, Drive (or ride) with Grace

!
Let others go first.
Let them in the line.
Let them pass you – as needed.
Even give up the better parking place. I dare you!
Second, Work with Grace

.
Be kind at work.
Offer to get a co-worker a cup of coffee.
Let them go ahead of you at the copy machine.
Be willing to switch shifts with them.
Ask how they are doing.
Third, Shop with Grace

.
If someone has fewer items, let them go ahead of you.
Be kind to the checkout person.
Smile at others.
Put your cart in the cart rack.
Thank those that help you and serve you.
Fourth, Show Grace in your community and neighborhood

.
Get involved.
Be kind to neighbors.
Don't just think about your yard or home.
See if you can help others. Maybe take their trash can to the curb or put it back.
Be friendly and grace-filled with your neighbors.
Finally, show Grace at home—with friends and family

.
Hug someone you love – for 10-15 whole seconds.
Answer with respect.
Give the same grace that you want them to give you.
Listen to your closest people.
Care about what they are dealing with.
Be kind at home.
Why Do We Need to Give so much Grace

?
You may be thinking, why should I go to all of this trouble?
Why does this matter?
Philippians 2:5 reminds us – "You must have the same attitude that Christ Jesus had."
People need to see Jesus in us!
This is how Jesus acted, and it's how we should act!
It's that simple!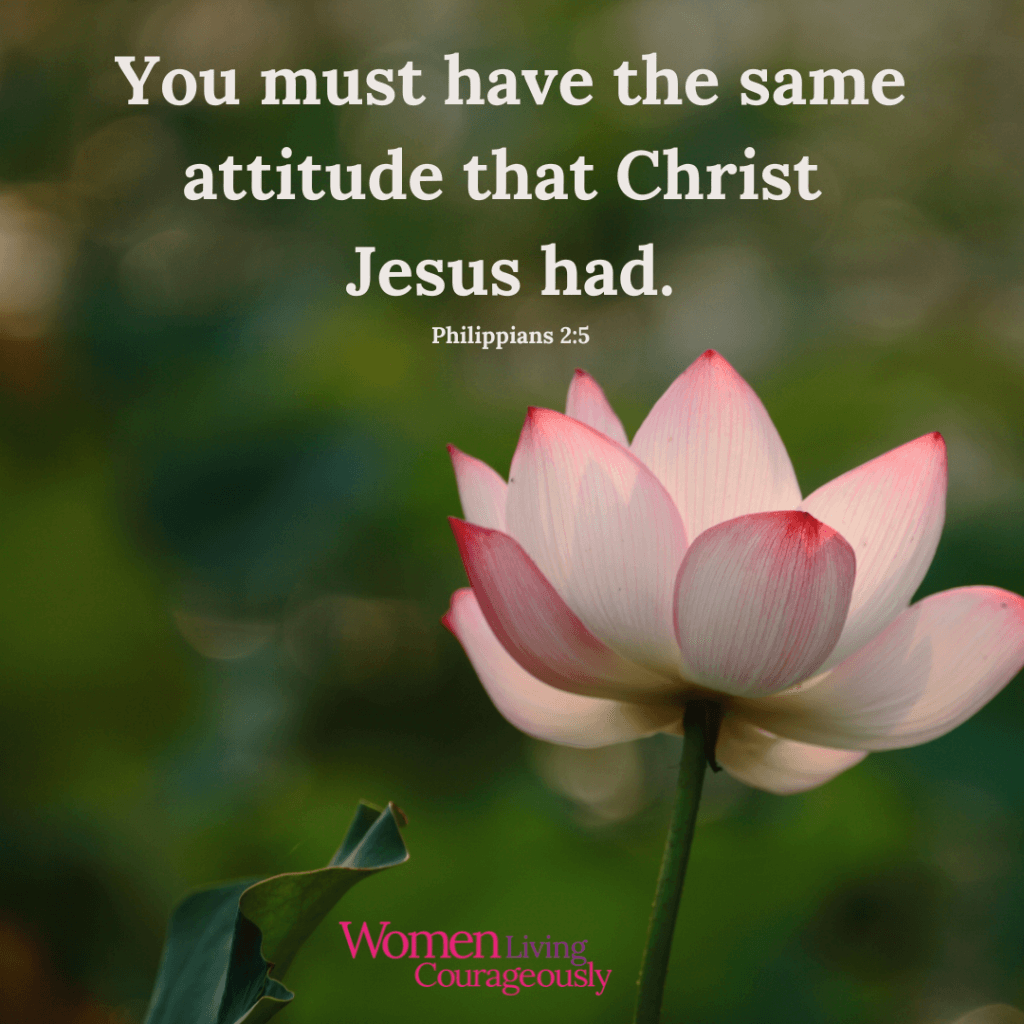 A Fun Story about Grace
I'm one of those people, who is on social media quite a bit.
Often, I get notes and messages from people all over the world, many of whom I do not know.
Recently, I got a note from a man who lives in West Africa, in a place called Ghana.
In his broken English, he wrote –
"Thank you for making your Christianity so sweet and attractive to others."
Maybe that's the key to Give Grace

.
Too often, I think we push people away with our versions and our representations of Christ.
But Jesus said in John 12:32, "If I be lifted up, I draw all men to me."
Jesus is the Ultimate Example of Grace
If you read the gospels, you see how people were so drawn to the person of Jesus Christ.
I want my life to draw people to Jesus.
Don't you?
So today, why not start your time by asking God to give you grace?
Picture yourself putting on a grace T-shirt. Then spend some time in Word and filled up with some of his grace.
Finally, remember to drive with grace, work with grace, shop with grace, behave in your neighborhood and community with grace, and treat your closest people with grace.
Think about this truth as we close

.
In John 13:35, Jesus said, "
"Let me give you a new command: Love one another.
In the same way, I loved you, you love one another.
This is how everyone will recognize that you are my disciples—when they see the love you have for each other."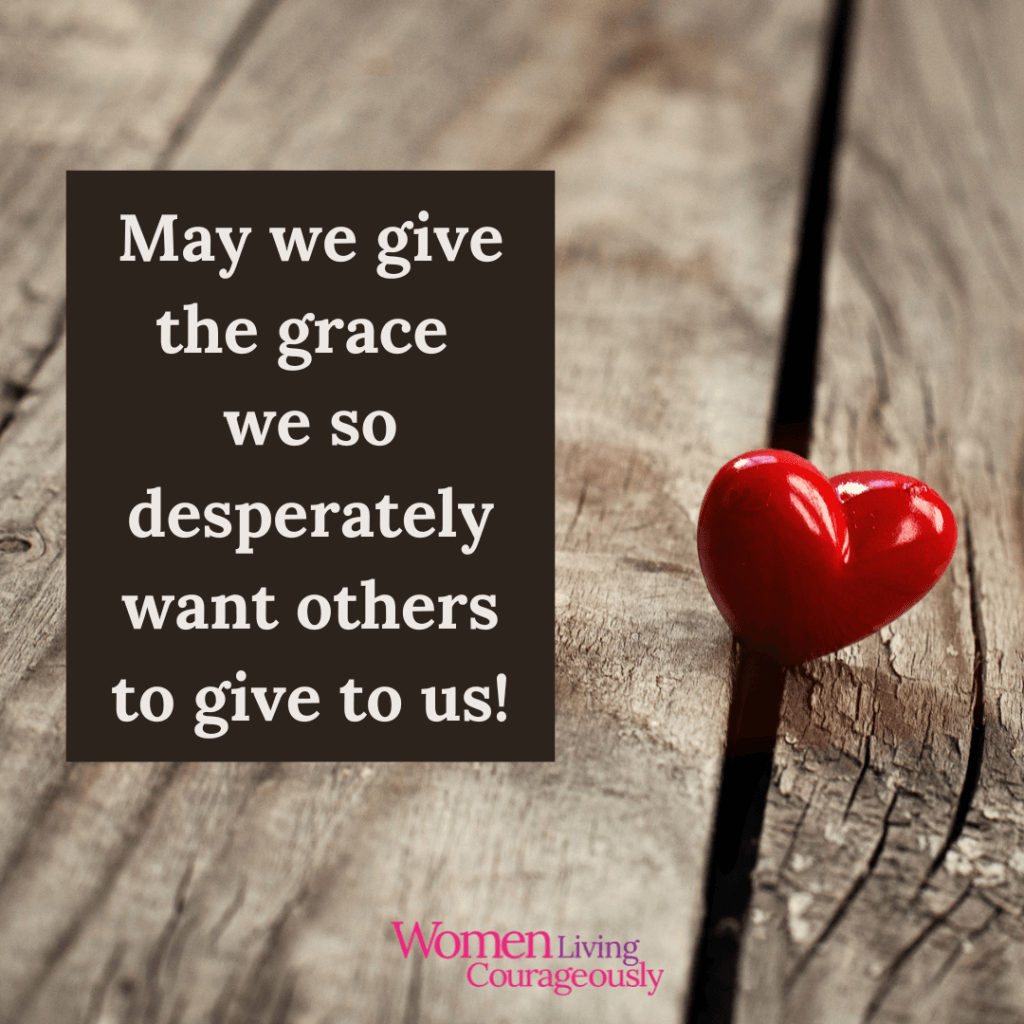 My prayer is that we will display the love of God in the way that we treat others

!
Just as that sweet nurse took the time at the end of her shift to fix my mother's hair, may we also extend grace everywhere we go today!
May we give the grace we so desperately want others to give to us!
May we look for a way to extend a little more grace to someone today?
I've Got a Grace Gift for You

!
I've created a sheet for you with all of these grace-giving ideas typed out.
Get your FREE copy of "Fabulous Ways to Give More Grace Away!"
You can grab your copy on our website, print it out, and hang it up where you will see it regularly.
To get your free sheet, click HERE.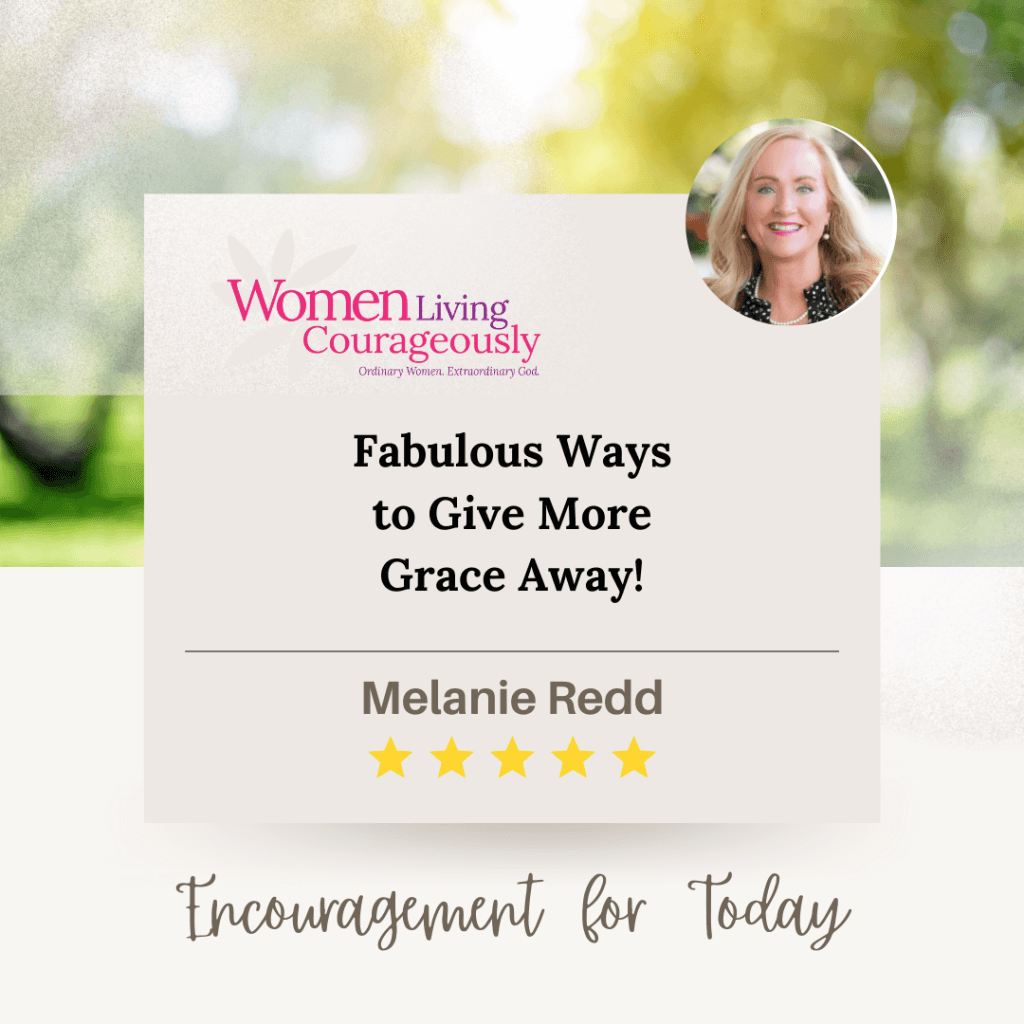 And, if this blessed you today, would you share it with someone else

?
Send this post to that friend, co-worker, or family member who you think would greatly benefit from listening.
Thank you for being such a vital part of our ministry!
We appreciate you!
And, remember – we are ordinary women, but we serve an extraordinary God!
And, He wants to fill you up with overflowing grace this week!
This blog occasionally uses affiliate links and may contain affiliate links.
© Women Living Courageously, 2022. Unauthorized use and/or duplication of this material without express and written permission from this blog's author and/or owner is strictly prohibited.
Further, excerpts and links may be used, provided that full and clear credit is given to Melanie Redd and Women Living Courageously with appropriate and specific direction to the original content.