You can listen to this message on the Podcast!
To get over there, just click on the image below or click on one of the following sites:
Let's Build a Better Marriage.
Being the month of February, we're talking about love and marriage and God's love, and there is a new resource from Love Worth Finding, it's called The Music of Marriage.
And when I got thinking about how we could talk about and present love in the month of February, I had the idea that maybe could key on The Music of Marriage.
I thought it would be fun to talk to a long-time friend of mine, actually, have her in for an interview and think about music and marriage because those are two things that are very prominent and very encouraging and inspiring in her life.
And so today, we are blessed to have my friend Lalania Vaughn with us.
In fact, we've been friends for almost 30 years!
Setting the Stage to Build a Better Marriage
Melanie: Lalania, tell us a little bit about yourself.
Lalania: I am married to Cary Vaughn who's the CEO of Love Worth Finding Ministries. We have been married for almost 30 years. We have two beautiful children. Our daughter is 28, Logan, and we have a son who is 25, Colton. And he recently got married. So I have a beautiful daughter-in-law Ashley Ewen Vaughn. We are just so excited about that.
Melanie: Tell us about your job.
Lalania: So I've been a private voice instructor for about 30 years and I am also the Director of Fine Arts at Tipton Rosemark Academy. So I work with the choirs and the theater from sixth through 12th grades. Love what I do. I tell people, I said, teaching is kind of a platform for ministry. I love teaching, but I know that my calling is to just mentor and encourage and pray and draw those students closer to the Lord. So I take that job very seriously, but I know it's a ministry at the foremost. So that's what I do.
Melanie: Well I was also thinking about, as I was preparing for today, that you and I are both pastor's wives and we served on staff in town together years ago. But you and your husband have taken on a pastor and wife role recently. Tell us a little bit about that.
Lalania: We have. So about three years ago, God called us from the church where we were, that we had been 27 years, and we are now pastor and wife of a church called Community Baptist Church. And we have been so blessed. It was not anything we were looking for, which is how God works. And a close friend of mine, as I was praying through that, said God just calls us to be obedient.
When you're obedient, he blesses. Also, we could not have foreseen what God was going to do. When we came to that little church, the pastor had retired and they had been without a pastor for about a year. And we had an opportunity to come in and Cary just was filling in throughout the summer months. And they came to him and said, we really feel like you're the man that we're looking for.
So as we began to pray, God opened that door. And so what started as a congregation of about 20, we now have over a hundred and many of those are families from Tipton Rosemark Academy. So I feel like the school has been a bridge to our church because we're right in our community.
It's in our backyard. We live in Rosemark and Community Baptist Church is in Rosemark, Tennessee. So we joke about the fact that my work is about a minute away. The church is about two minutes away from our home. And we just love pouring into the people in our community. That's wonderful.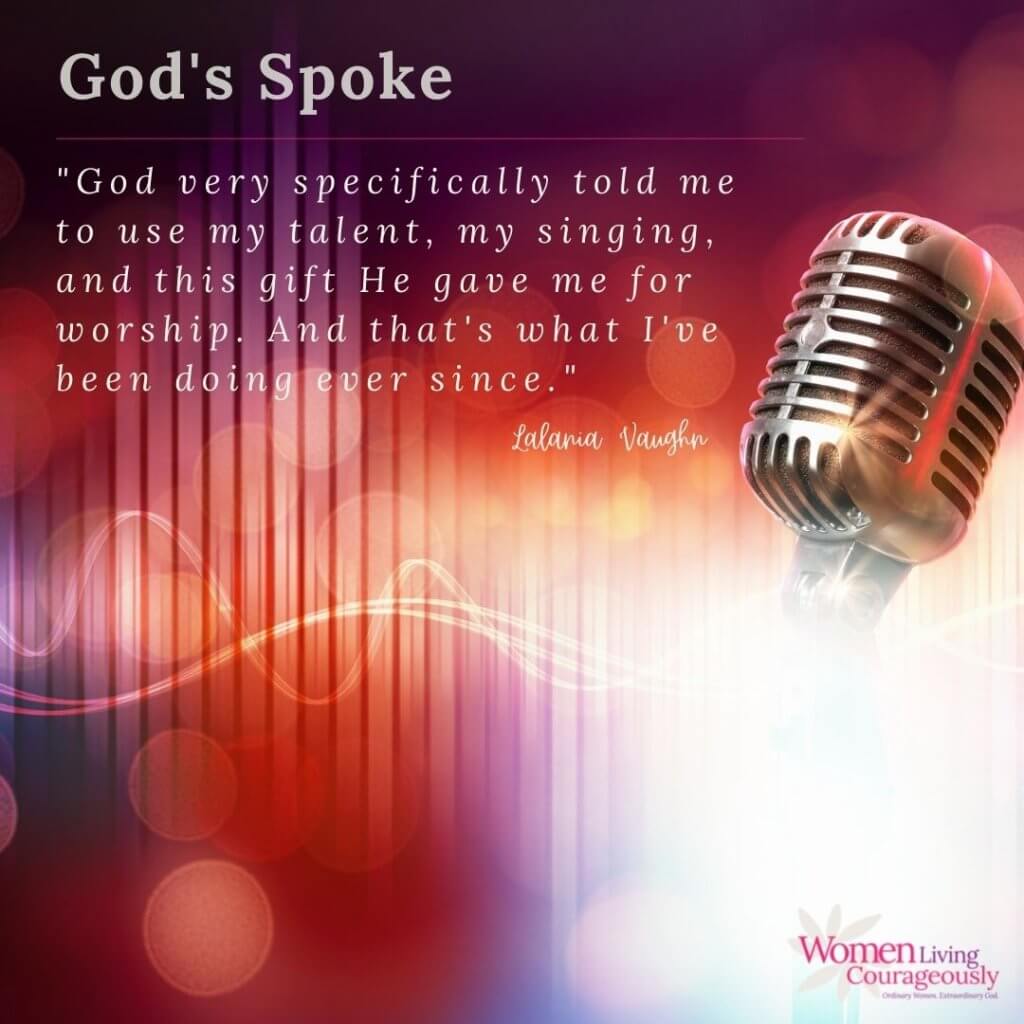 Let's Talk about Music:
Melanie: When I think about you, I think about music, I think about ministry and I think about marriage. So let's talk a little bit more about music. Because I know that's a big part of your life. What are some of the things you've gotten to do musically in your life?
Lalania: Part of my testimony is years ago, I was fresh out of college, Cary and I got married and probably within the next two or three years, God gave me an opportunity to do some singing and actually do some competing in some national competitions. And one of those was for Loretta Lynn and I won and got to open for her in concert.
That led to an opportunity to do a country music career. I had some producers working with me, thought that might be an avenue that I would look to do because music had always been an important part of my life. And a lot of people who knew me said my voice lent itself to country-sounding music. But that was not the path that God had called me to. And I knew it. I spent about a year in Nashville doing a lot of the recording and they were prepping me to meet with record labels.
And during that time we were at church at Bellevue Baptist Church in Memphis, TN. I just really felt like the Lord was speaking to my heart, saying that is not what I've called you to do with that voice. I did not give you that talent to be singing country music. And that kind of ties me back to when I got saved at 13.
I knew at 13 that I was called to music ministry. But, I didn't know what that would look like. But during that time in my life, God very specifically told me, I want you to use your talent, your singing, this gift I've given you for worship. And that's what I've been doing ever since. So I'm a worship leader at our church. And I have been doing that for over 30 years in the churches where I have been. And it's a privilege. I love it.
Music Ministry Can Build a Better Marriage
Melanie: And that's wonderful. And we've gotten to do some things together where I've taught and you've done the music and it's been a privilege, in several different states. In fact, it is fun when God calls you to use what he gave you. Your gifts and your talents and your abilities for Him. And it's very rewarding. Okay, tell us what it looks like since God called you to be in the Christian world of music, what has that meant for you?
Lalania: Yes. About 10 years after my time in Nashville recording, God brought a producer from Nashville to do a recording at Bellevue Baptist Church for our Centennial CD. And I was chosen as a soloist for that project. Soon after that, this producer approached me and said, have you ever considered doing a solo project? And that led to my first Christian CD, which I have here with us today. It was called, There is Joy.
And then about 10 years later, I did a lot of conferences, leading worship even went to India on a mission trip and led a women's conference there. God allowed me to do a second CD and it's, both of them are very near and dear to my heart. The second CD was called Work of Art. And I've had an opportunity to do a lot of conferences locally, regionally, state, nationally. But I just, love each song on these CDs because it tells my story, tells my testimony, and the journey that God has taken me on throughout my life.
Melanie: I know you sang solos in many programs. You've been part of many pageants and events and all kinds of things like that. And so God's really opened a lot of doors for you.
Lalania: He really did. I think one of the sweetest times in my and Cary's marriage was when he played Jesus in the Passion Play at Bellevue Baptist Church. And I had the great privilege of playing the part of Mary of Bethany who sat at Jesus' feet. And that was a time in my life when I was really growing in my walk with the Lord and just to be able to portray Mary of Bethany and knowing her story, that was so powerful to me. Truly, it was a joy to be able to share that through music, which is definitely my first, one of my first loves in ministry.
Melanie: And I got to see that performance. That was a wonderful Passion Play that you were a part of.
Lalania: Thank you.
Melanie: Well, let's just talk about some fun questions about music. What is your favorite song to sing personally? Like what do you love to be asked to sing?
Lalania: Yes. I love all styles of music, but within the gospel realm, I love the song, I'd Rather Have Jesus. It's a hymn, I've performed that through the years at many churches and it's a song that's very near and dear to my heart. It's a great song.
Melanie: What about your favorite singer or group?
Lalania: So I love Natalie Grant. She's been consistent through the years with just the way she writes. I know she co-writes a lot, but I love how she brings to the forefront her love and passion for Jesus. And that shows in every song that she performs.
If you back it up a few years, growing up, I loved Sandi Patty. I really like a variety of styles of worship music. Kind of on the current scene, I like Charity Gill. She's a newer artist, got some great stuff. We've been performing that in our worship time at our church now. We the Kingdom is another group that I listen to a lot. There are so many good artists out right now.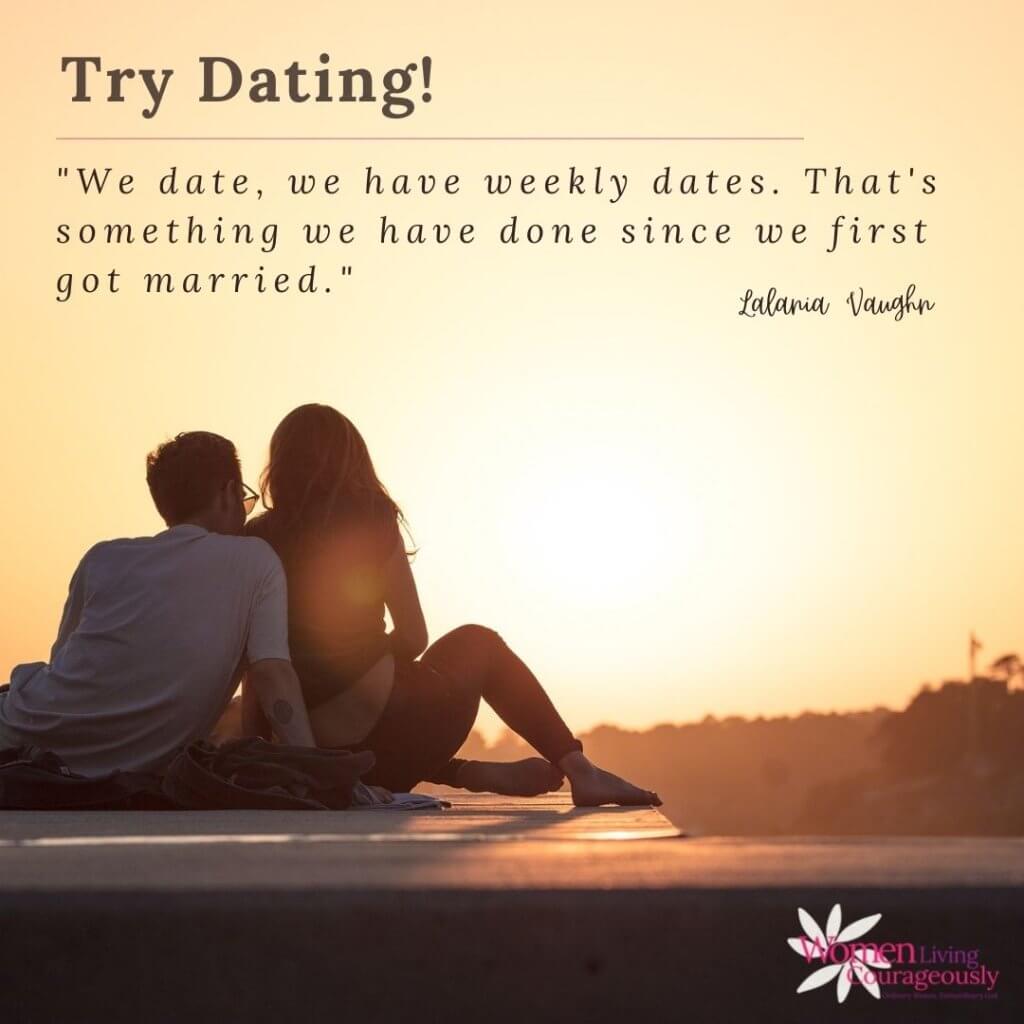 Let's Talk about How to Build a Better Marriage:
Melanie: Well, let's talk a little bit about music in marriage since that's the name of the book that's coming out. As a pastor's wife, a mom, and a woman who works full time, how do you keep the music going in your marriage?
Lalania: We date, we have weekly dates. That's something we have done since we first got married. We make it a point to put it on our calendar. And it's usually on a Friday night. If we're busy on a Friday night, we do it on a Saturday. But we try to make a point to have time together as a couple. I think that's so important. Your husband should be your best friend or I mean, it's a relationship that needs to be constantly worked on. It's not something we should ever take for granted. And so yes, we have dates.
Melanie: I love that. And you have a date night tonight, right?
Lalania: We do have a date night right after this. I don't know where he is taking me. He surprises me.
Melanie: Well, what are some of the things you two enjoy doing together?
Lalania: So we have always been big moviegoers, whether it's watching one of our favorite movies at home. We also love going to the Orpheum Theater because both of us have a background in the arts, fine arts. And so we love going and seeing wonderful stage plays.
Also, we like to listen to orchestras. So sometimes we'll go to the symphony, but we try to do different things. We also love to ride bikes together. We both love the outdoors and sometimes it's a walk, but we both love biking. So we discovered that during the quarantine, we had more time at home and we found that that was something we love to do together.
Melanie: Those are all great ideas. What about what makes you laugh? What would really crack you up in your marriage?
Lalania: Cary just makes me laugh. He is just a funny person. So really anything, any story he tells. He is very charismatic and just, I love, that was one of the things that I fell in love with when I met him was his sense of humor. So, we also like to play family games. So board games, just fun things at home. And that always makes you laugh. But that's probably one of my favorite times is just being with him and being with our family together.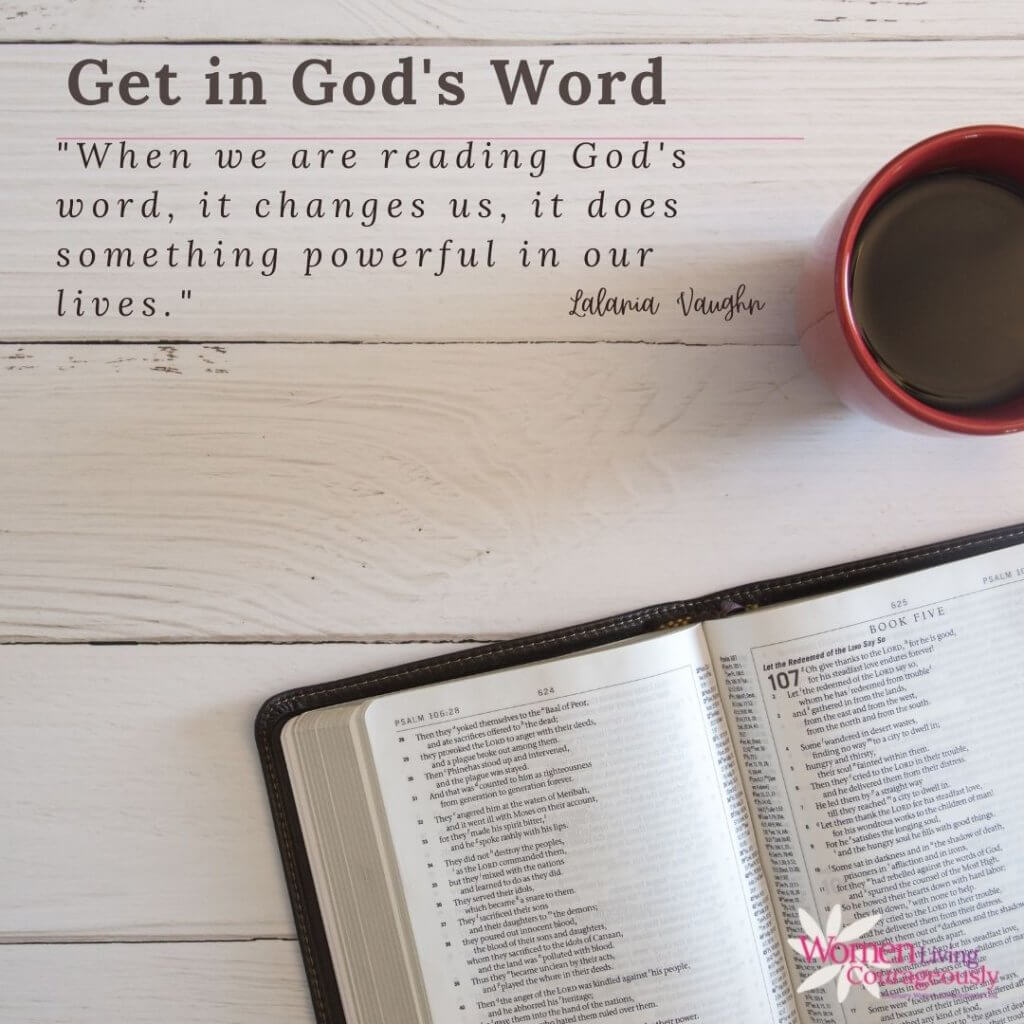 Building a Better Marriage During Tough Times
Melanie: Some people that are reading this may be struggling in their marriage. And so when your life hits a hard chord or a difficult note, what do you do to make things better?
Lalania: You know, Cary and I have had the great privilege of counseling young couples before they get married. And one thing that we talk about is communication. Like whatever you're going through, you've got to talk it out. You can't go to your corners and not speak. You've got to be real and you've got to share your hurts and share your concerns. And the trials that you're going through, you're not walking those alone if Jesus Christ is at the center of it all.
And that's another thing I tell them. I said, along with that communication, be aware that our husbands are a gift. You know, our families are gifts to us, but they cannot meet every single need. And I think sometimes as women, we're looking to the people in our life to meet our needs. And that's where Jesus comes in. Jesus is the only one who can completely meet our needs. But we need to be real. And I think communication is the key to any marriage.
Melanie: I would say that is true for us as well. And for so many. And so if someone's struggling today, do you have any other good word of marriage advice for them or encouragement for them?
Lalania: You know, I know everybody says to pray and we think that's just so simplistic, but there is power in prayer. And reading the word. Sometimes it's hard. I know one thing that I've shared with a lot of ladies, I'm real, I have struggles too. It's hard to find that discipline to stay in the word of God, but there's power in God's word. I was reading this past week and in Hebrews four, it talks about that word is alive and active.
And when we are reading God's word, it changes us, it does something powerful in our lives. But then we need to take that time to boldly approach the throne of grace and bring our prayers to God. I think it's also important to have godly women in our lives who are pouring into us, accountability partners, people who are mentoring us. So even though we're talking about marriage here, there's a lot of obviously Jesus at the center, but there's a lot of people who should be surrounding you, praying for you, encouraging you. I think that's valuable.
Melanie: This is all such good advice.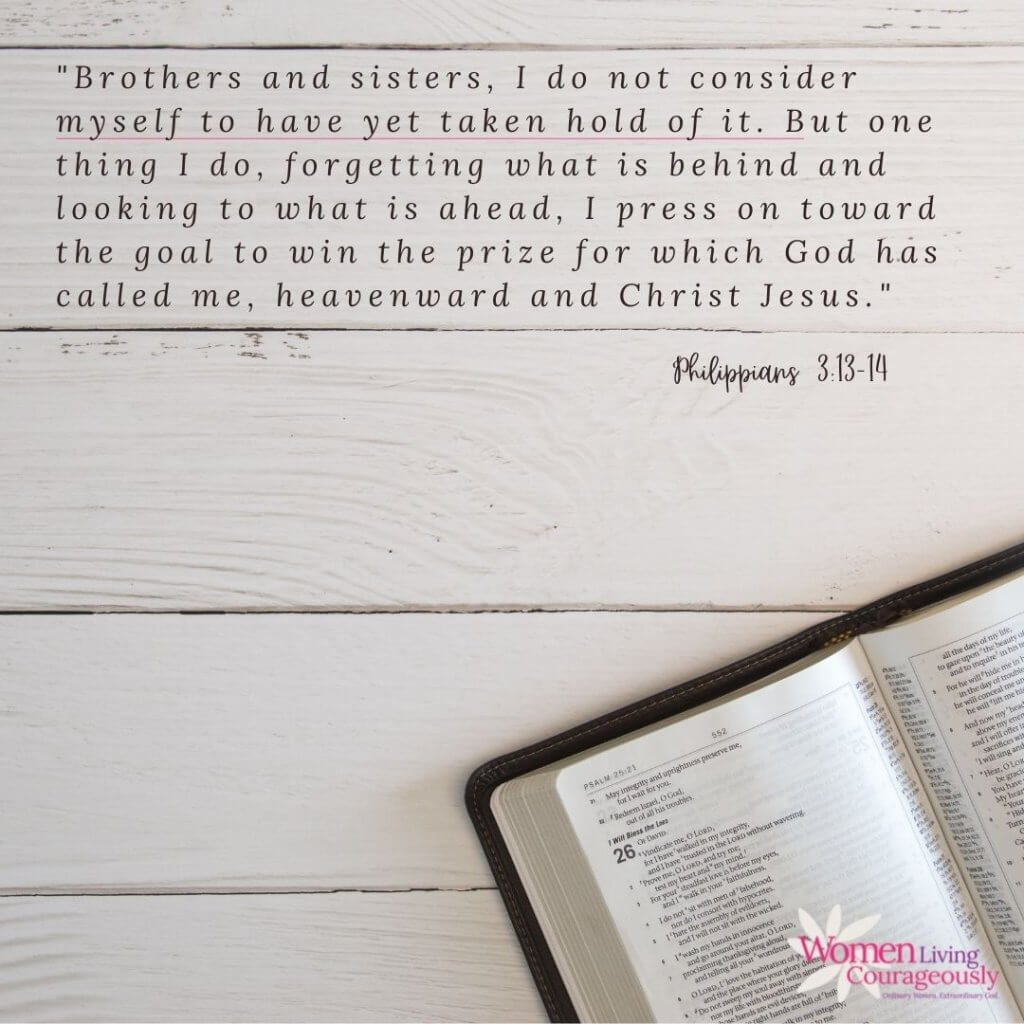 Let's Talk about a Few More Things:
Melanie: All right. I had a few other questions, just general. We've talked about music. We've talked about marriage. But I would love to know, do you have a life verse or a life quote that you would love to share?
Lalania: I do. It's Philippians 3:13-14 has been my life verse.
It says,
"Brothers and sisters, I do not consider myself to have yet taken hold of it. But one thing I do, forgetting what is behind and looking to what is ahead, I press on toward the goal to win the prize for which God has called me, heavenward and Christ Jesus."
I found that verse soon after I got saved. And I had come through a really dark time in my life. And one of the mottos that Cary and I always share with young couples or anyone we mentor and are praying with is it's not how you start, it's how you finish. Finish well. And that's what that verse means to me.
Forget what is behind. We can't change the course of things, but we can run and press on toward that prize for which God has called us heavenward in Christ Jesus. I think that is the most important thing we can do is just keep our eyes on Jesus.
Melanie: Absolutely, that's such a good word. I often share posts on social media about pressing on, keeping on, keep on keeping on. So that's a great word. I love that.
Lalania: Thank you.
An Ordinary Woman
Melanie: All right. So I like to ask people, we say we're ordinary women that serve an extraordinary God. How are you an ordinary woman? So let me give you an example. What makes you just one of the girls? So for example, I like to take long walks. I like to eat chips and dip. I like to listen to loud praise music. So what about you? What makes you just one of the girls?
Lalania: I am a coffee girl. I wish that I didn't love coffee so much. That is my one go-to, but I do. I love coffee. I love coffee shops. And, I love to meet friends for coffee. So you put coffee and friends together, and that is my favorite time. Just have a conversation.
In addition, I love Italian food. That's one of my favorite types of food. I've never been to Italy, but that's on my bucket list. Also, I want to go to Italy.
And, if it's a movie night, I'm going to have a diet Dr. Pepper and my dark chocolate Raisinettes. That's my one guilty pleasure is those Raisinettes. And any other time I'm drinking my water and I'm having my cup of coffee, but yeah. So those are some of my favorites.
Melanie: Those are fun. I think a lot of people can relate to the love of coffee.
Lalania: Oh my goodness. I wish I didn't, but I love coffee. Now I do not drink it the healthy way. I always have to put a little bit of cream and sugar in there.
Melanie: My husband says I drink mine with just a little coffee in it.
Lalania: Yes. And that's my grandmother's fault. That's the way she taught me.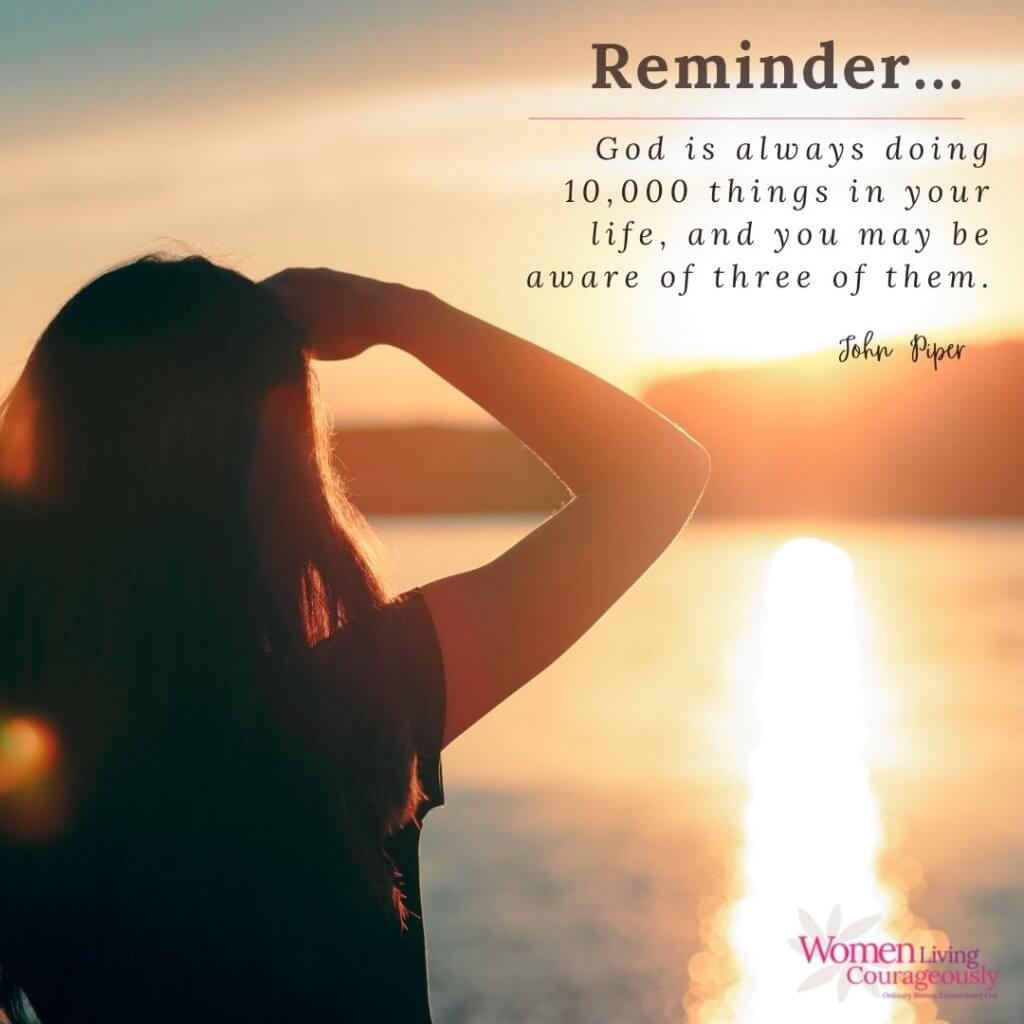 Our Extraordinary God
Melanie: On the other side of this, now that we know you're just one of the girls, how have you experienced God to be extraordinary in your life?
Lalania: God has done so many wonderful things in my life. You know, really just calling us to this church recently. That was not on my radar. That was not anything I had planned. You know how it is. Even as Christian women, we have these plans that we have mapped out for our lives.
And that was not anything I had intended, but God has been so real in that and so evident in working through that. Another thing that is just a little sweet Godwink is what I call them, is when I'll be going through a really difficult time and maybe a friend that I haven't talked to in months sends me a text message and says, "Hey girl, I don't know why you're on my heart today, but God put you on my heart and I'm praying for you."
And that shows me that God is at work in my life. To me, that's extraordinary that he cares about every detail of our lives.
So those are just some really beautiful moments that I feel like God has brought to me here recently that I can share with you.
Melanie: Those are great things to share. And I think there's a John Piper quote that says, "God is always doing 10,000 things in your life, and you may be aware of three of them."
Lalania: That's right.
Melanie: And it's sweet when we start noticing the good things that God's doing in our lives.
Lalania: Absolutely.
How to Get in Touch with Lalania Vaughn:
Melanie: That's a great word. All right. Where can people find you if they want to hear you sing or they want to find your music? Is there a way for them to connect with you or get in touch with you?
Lalania: Really just through my Facebook. Everything that I do, I really kind of keep tied to Facebook. I also have a group that I started about two years ago for our ladies called Women of Joy. And that's also a Facebook and we've been reading the chronological Bible together. But anything that I'm doing with worship time, sometimes we'll post videos of things from our church. So really just Lalania Vaughn on Facebook or Women of Joy, which is our group as well.
Melanie: Okay, wonderful. So I encourage you, I'm in her Women of Joy group and she shares how you can read through the Bible in a year. And she puts up a little amount of scripture that you can read each day.
And so if you want more information and you want to connect with Lalania, look for her on Facebook or the Women of Joy group. That's wonderful. Thank you so much for being a part of this today and for sharing with us.
You've encouraged us in your marriage and in your music and in just the way that you love Jesus. And I want to tell you personally, in front of all these people that are listening, that I am blessed by you and by the fact that you are the real deal.
Lalania: Thank you.
Melanie: And you are an ordinary woman, but you believe in an extraordinary God. And so that's our encouragement today to everybody that's listening. We are just regular girls.
Lalania: Absolutely!
Melanie: We are ordinary women, but we serve an amazing, extraordinary God. And we can trust Him.
This blog occasionally uses affiliate links and may contain affiliate links.
© Women Living Courageously, 2022. Unauthorized use and/or duplication of this material without express and written permission from this blog's author and/or owner is strictly prohibited.
Further, excerpts and links may be used, provided that full and clear credit is given to Melanie Redd and Women Living Courageously with appropriate and specific direction to the original content.